Panama City Mural Trail
The Panama City Mural Trail was born from the Bay Arts Alliance's vision of implementing "Art on Every Corner" through the highly successful Bay Arts Mural Project. The trail features more than 15 murals (with more to come) spread across Panama City's historic neighborhoods.
Jayson Kretzer, executive director of the Bay Arts Alliance, and other community leaders founded the project to keep art at the forefront of discussions during the reconstruction of Panama City's parks and buildings. Local and nationally known artists like Christon Anderson have relished the opportunity to make their mark on the city's blank canvas, bringing creativity and beauty to the horizon.
Murals in Historic Downtown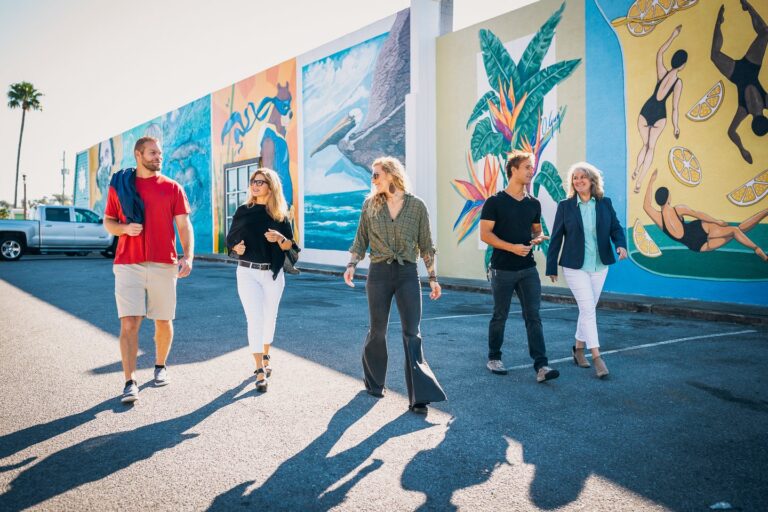 Historic Downtown Panama City's Welcome Wall ushers travelers into the heart of Historic Downtown Panama City at the corner of Harrison Avenue and West 6th Street. This mural is a cornucopia of stunning visuals from several different local artists including: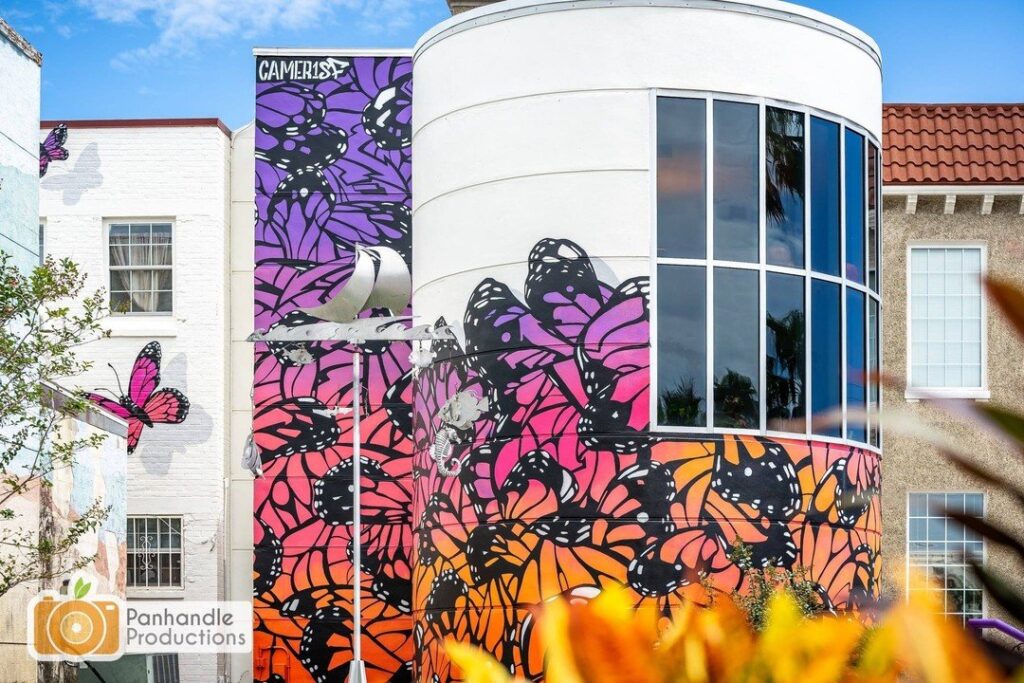 The iconic Flutter By mural has transformed the exterior of the Panama City Center for the Arts into a premier piece of art and one of Panama City's most photographed locations. The bright pinks and oranges adorning the Arts Center's outer wall turns heads and sparks amazement. This installation by San Francisco artist Cameron Moberg, located at 19 E 4th Street, Panama City, FL 32401, is sure to set your spirit soaring.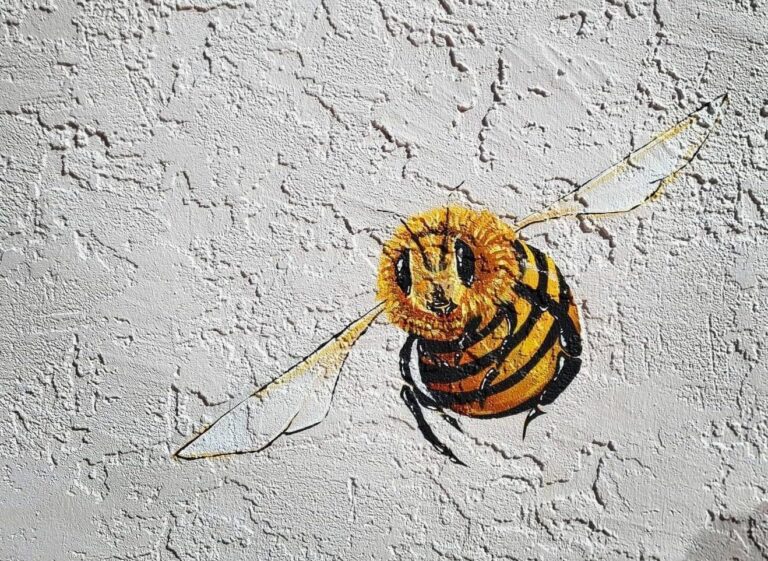 The Honey Bee is a sweet treat nestled in the coziest courtyard in Historic Downtown Panama City. Let life slow down as you enjoy the sounds of live music, a hearty meal from Millie's, and a cool brew from Craft Beer Emporium with the pleasant and peaceful backdrop of these beloved bees dancing across a lovely life-size flower garden. See why Heather Parker has created quite the buzz with this mural, located at 300 Harrison Avenue, Panama City, FL 32401.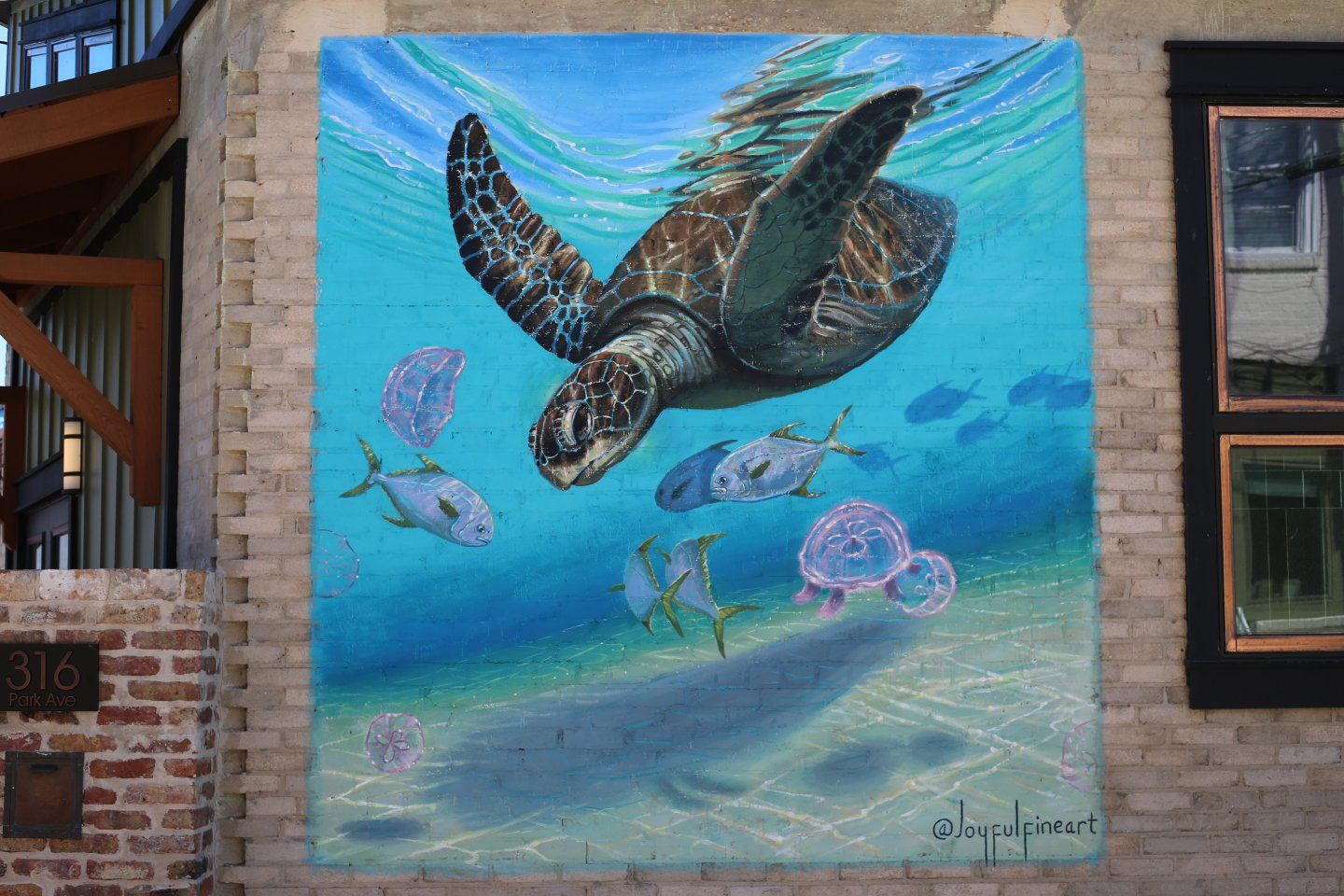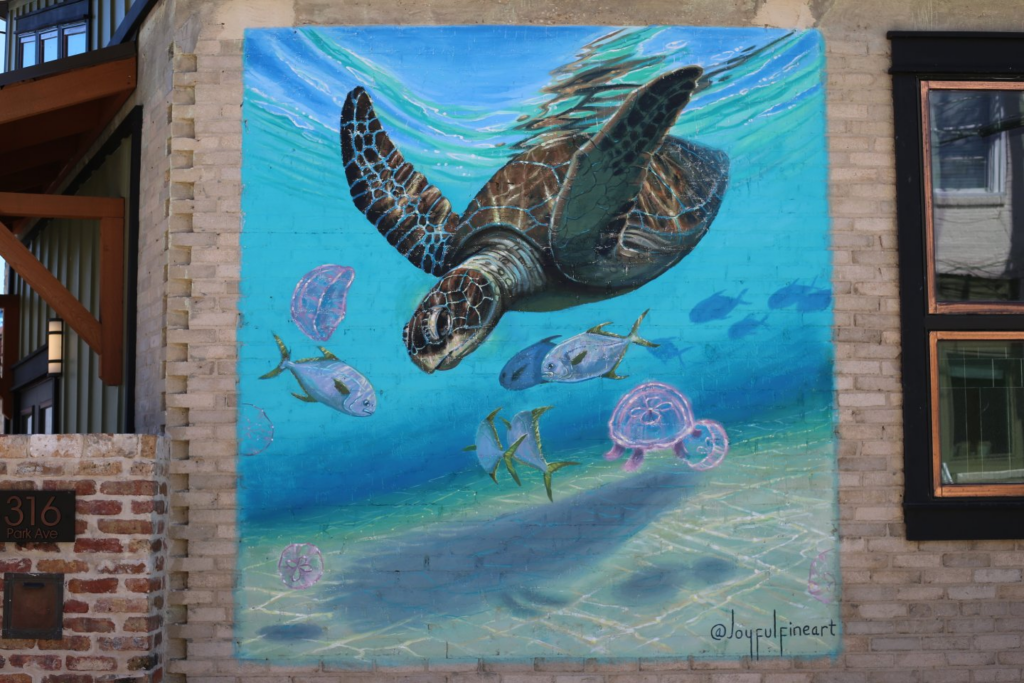 Great love and care are taken to support the local ecosystem in Panama City, and sea turtles are no exception. View this tender homage to these magnificent creatures, created by artist Joyful Enriquez, at 316 Park Avenue, Panama City FL 32401.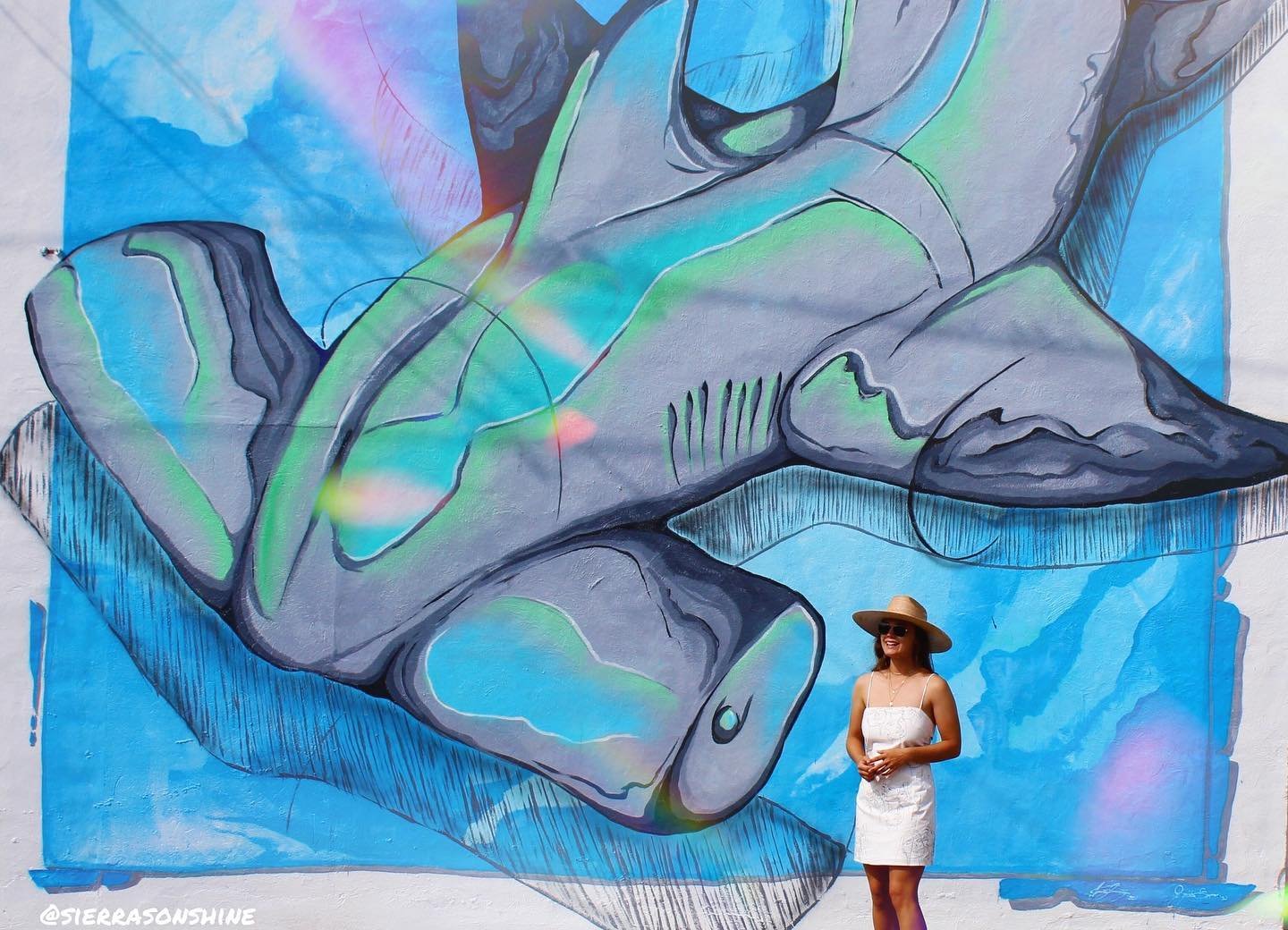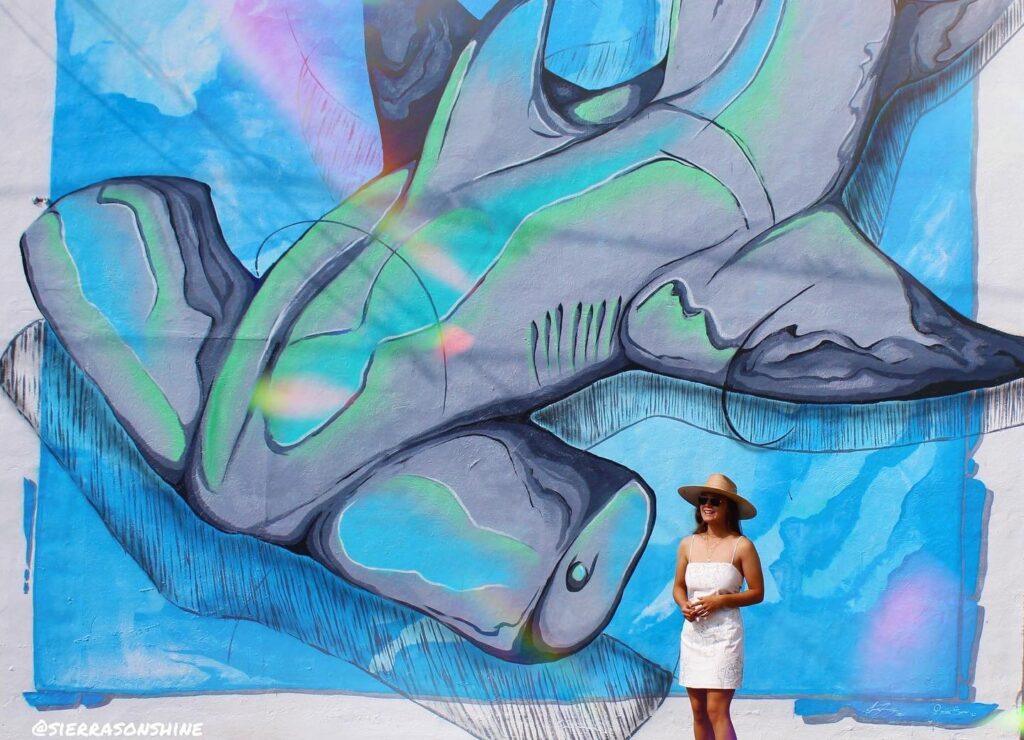 Rounding the corner of History Class Brewing Company in central Historic Downtown one would not expect to find a hammerhead shark towering over-head, but this thrilling piece by Jessie Jennings will inspire awe and appreciation for this exquisite creature. Stop by 18 E 4th Avenue, Panama City, FL 32401, and come face-to-face with one of the many types of wildlife gracing the emerald waters off our coast.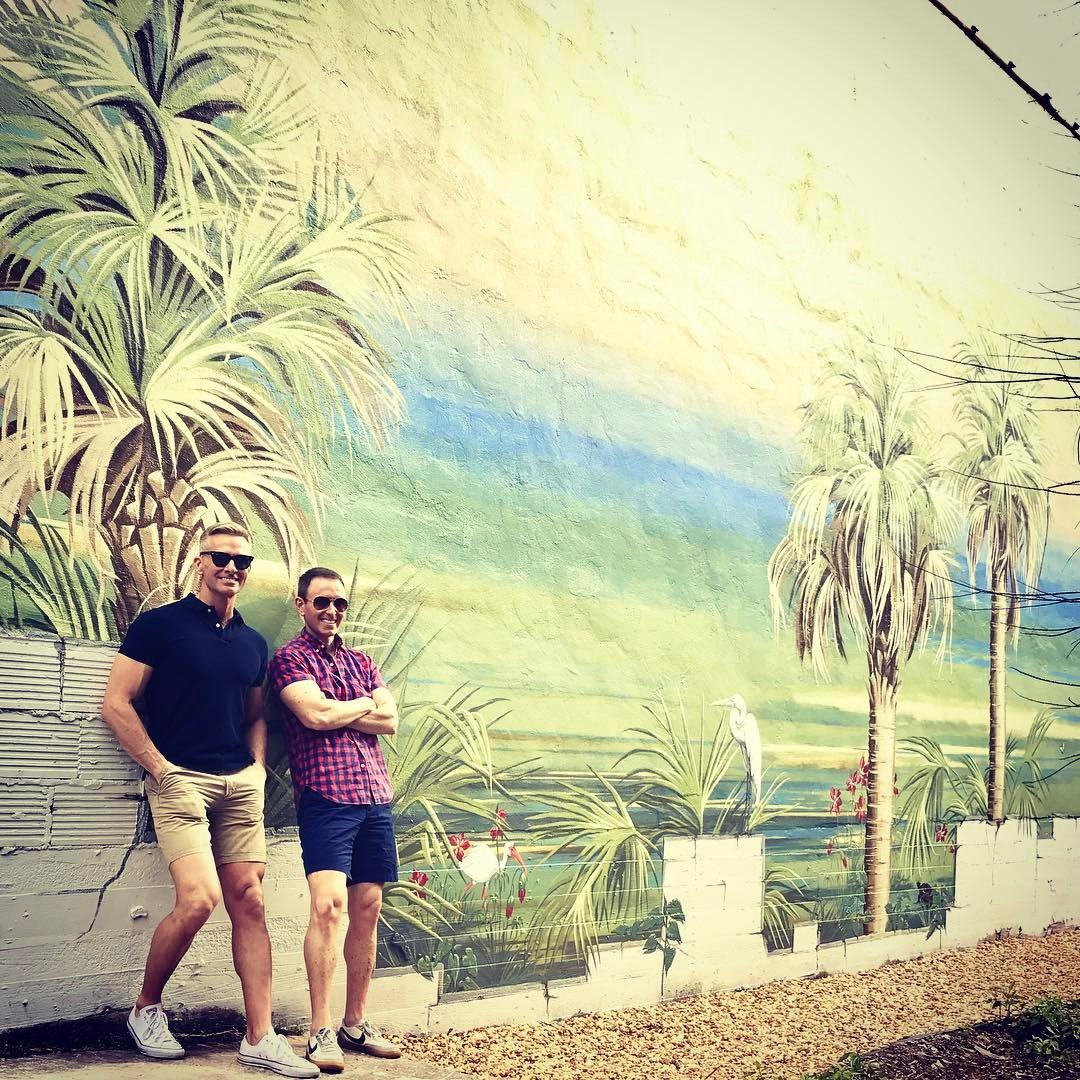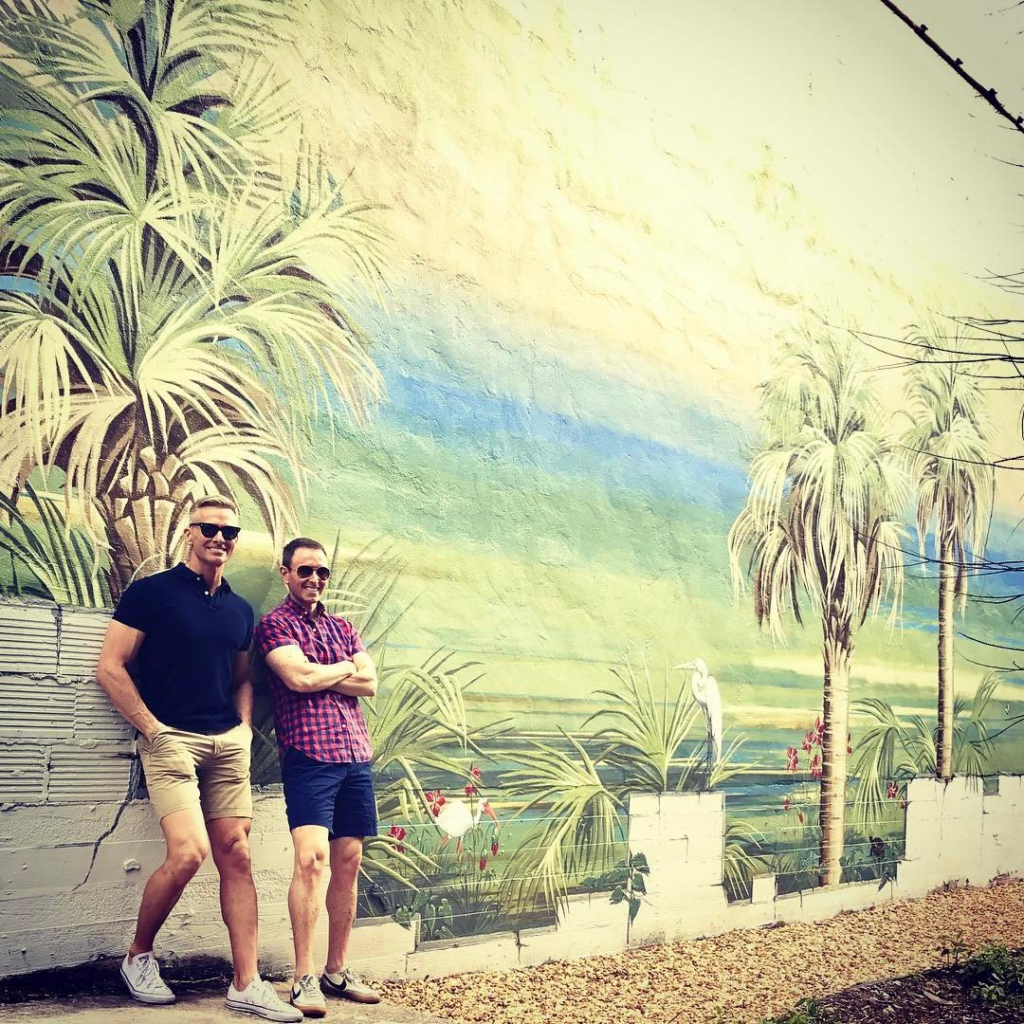 In 2017, Jane Perry completed a three-dimensional nature landscape mural that faces the Mary Ola Reynolds Miller Palm Preserve, donated in 2011 to the Bay County Conservancy by Mary Ola, art and nature enthusiast and owner of Gallery of Art in Downtown Panama City. This immersive mural located at 36 W Beach Drive, Panama City, FL 32401, incorporates native Florida animals and plants to stress the importance of the conservation of these species. See if you can spot a red-shouldered hawk, swamp hibiscus, lizard tail, and various types of palms.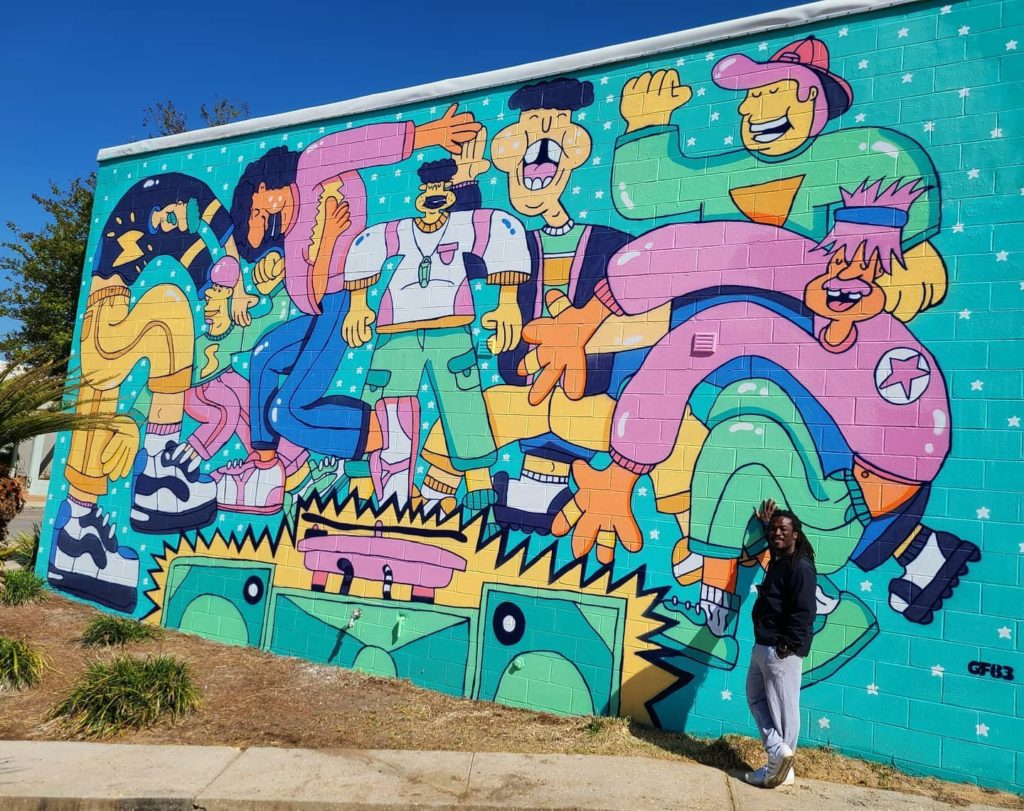 This vast and vibrant mural completed by George F, Baker III in only three days, comes alive with rich colors and bold movements that seem to jump off the building and invite viewers to imagine the sounds that bring this mural's "characters" to life. Located at 460 Grace Avenue, Panama City, FL 32401, the mural is sure to put a spring in your step.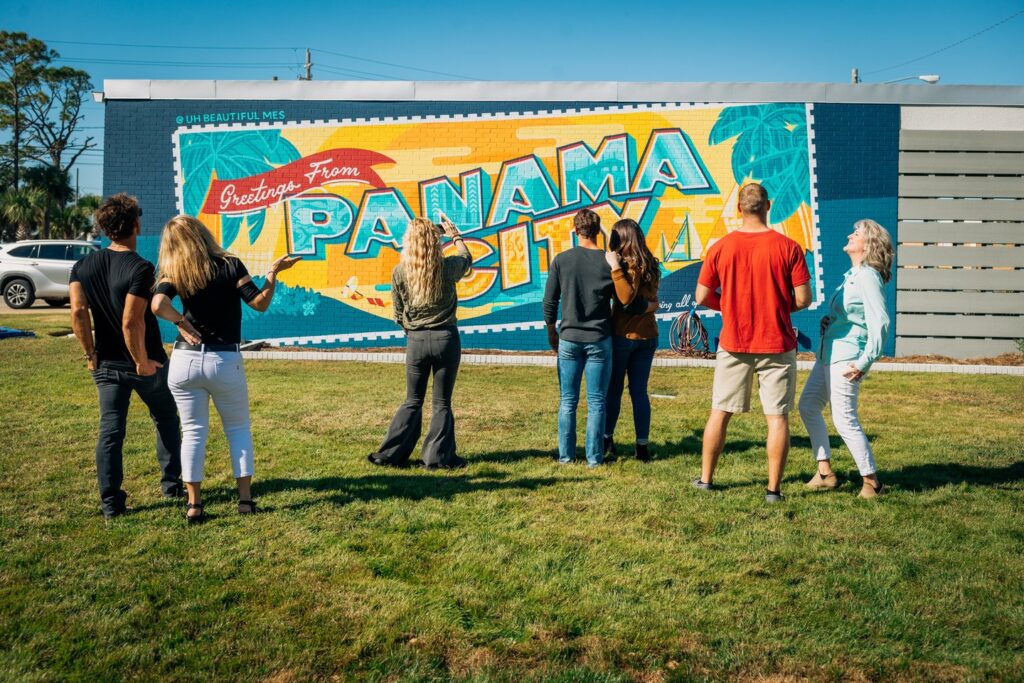 Become part of a larger-than-life greeting in front of the Panama City Postcard mural gracing the side of the Bay County Chamber of Commerce building in the heart of Historic Downtown Panama City. Morgan Summers' vibrant depiction of a signature Panama City sunset sprinkled with sailboats on the horizon can be seen at 235 W 5th Street, Panama City, FL 32401.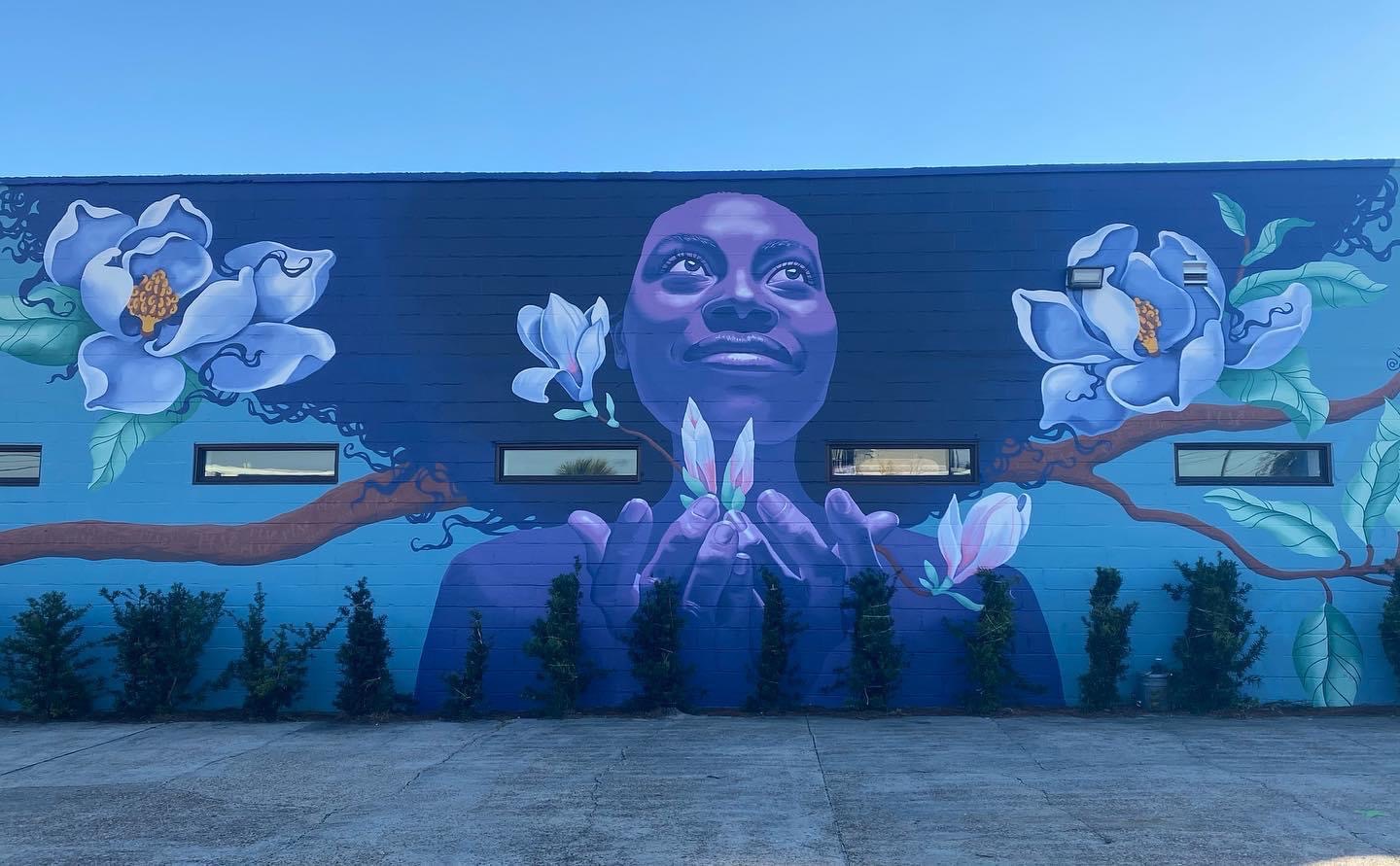 More than a work of art, Panama City's (and Bay County's) largest mural, spanning an impressive 100 feet, represents the strength, resilience, and perseverance of a community. Heather Clement's "Still We Rise" signifies rebirth and hope, and according to the artist "our community planting the seeds of trees whose shade we know we shall never sit in". This stunning mural is located on the side of the Aaron Rich Marketing building at 842 Harrison Avenue, Panama City, FL 32401
Learn more about the mural here.
Located on the side of Tom's Hot Dogs at 416 Harrison Ave, Panama City, FL 32401, this renovated mural dates back to the 1940's when it was originally created. Restoration efforts made by the Coca-Cola Company, Tom's Hot Dogs, and local artists Skip Bondur and Logan Flint uncovered and brought it back to life in early 2022. It took hundreds of hours to complete this stunning project that serves as an example of Panama City growth.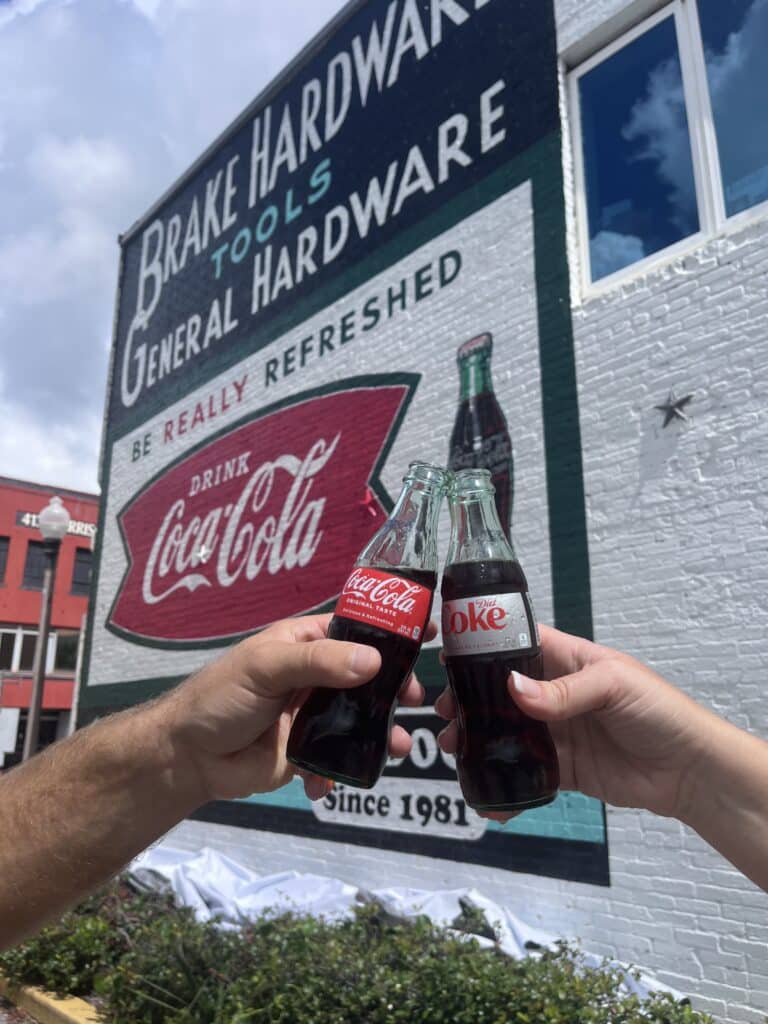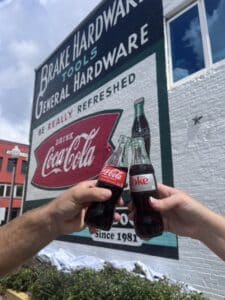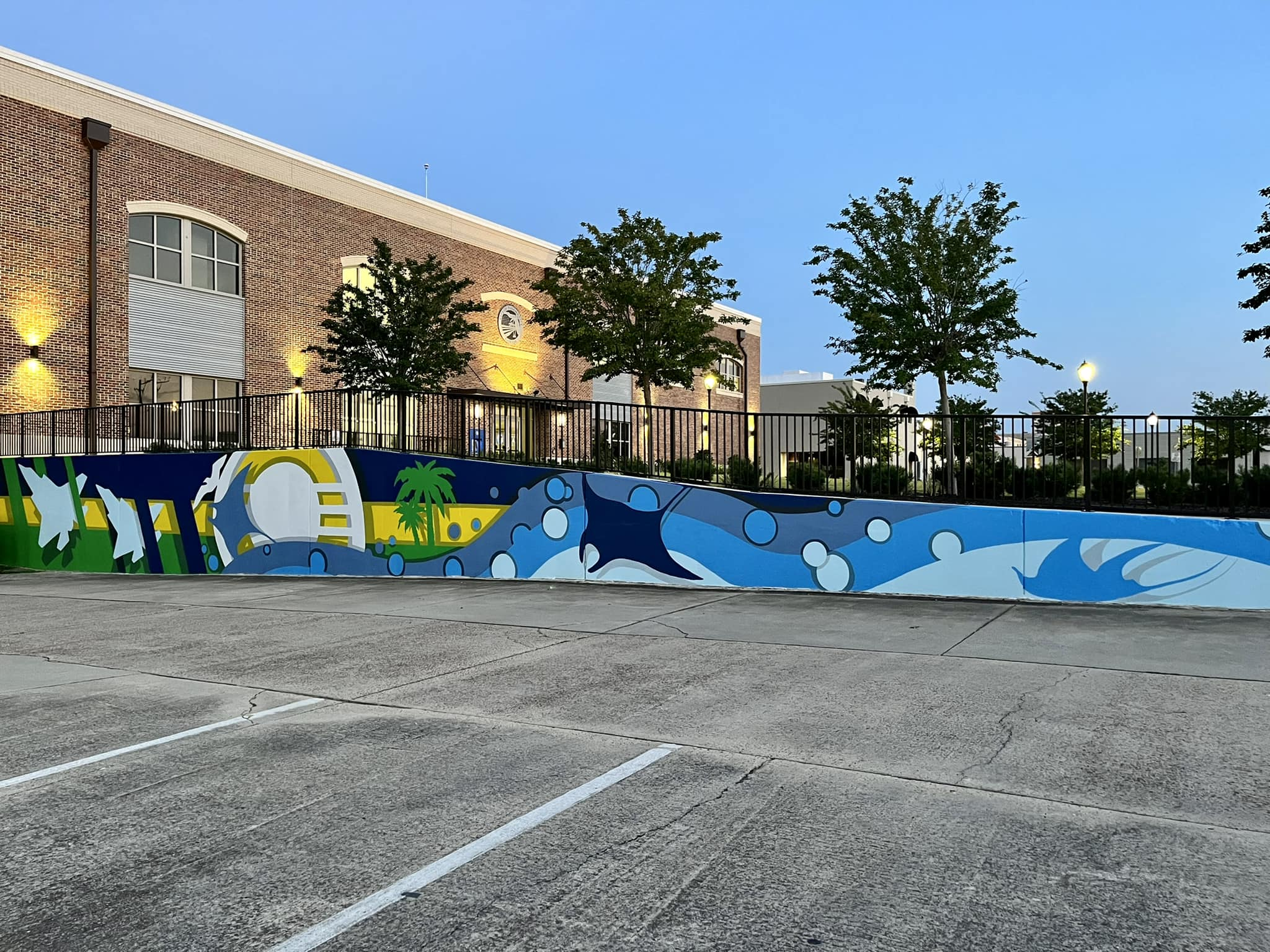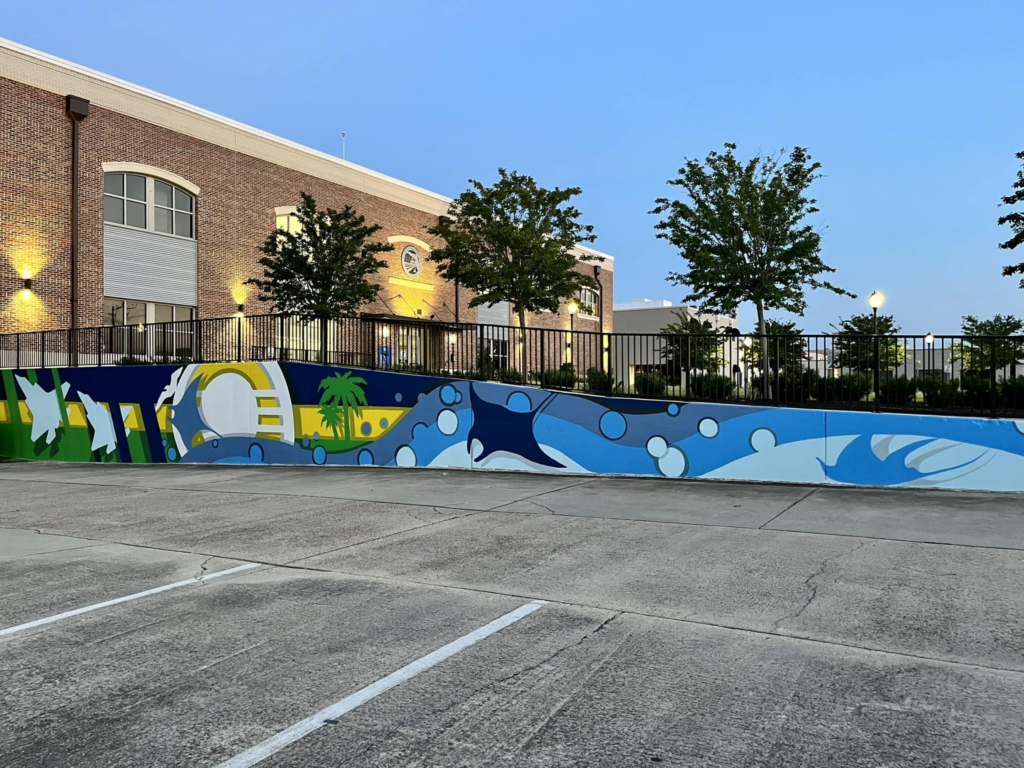 "A New Wave", the mural located at 501 Harrison Ave, Panama City, FL 32401 was painted as an effort to include City Hall in the Historic Downtown Panama City arts resurgence. Artist JD Justice worked with the City of Panama City to design this modern pop art mural with references to the city logo in color and content, plus a few rays playing in the waves just for fun! Dedicated to those who embrace change to better our community – artists, community leaders, and nonprofits.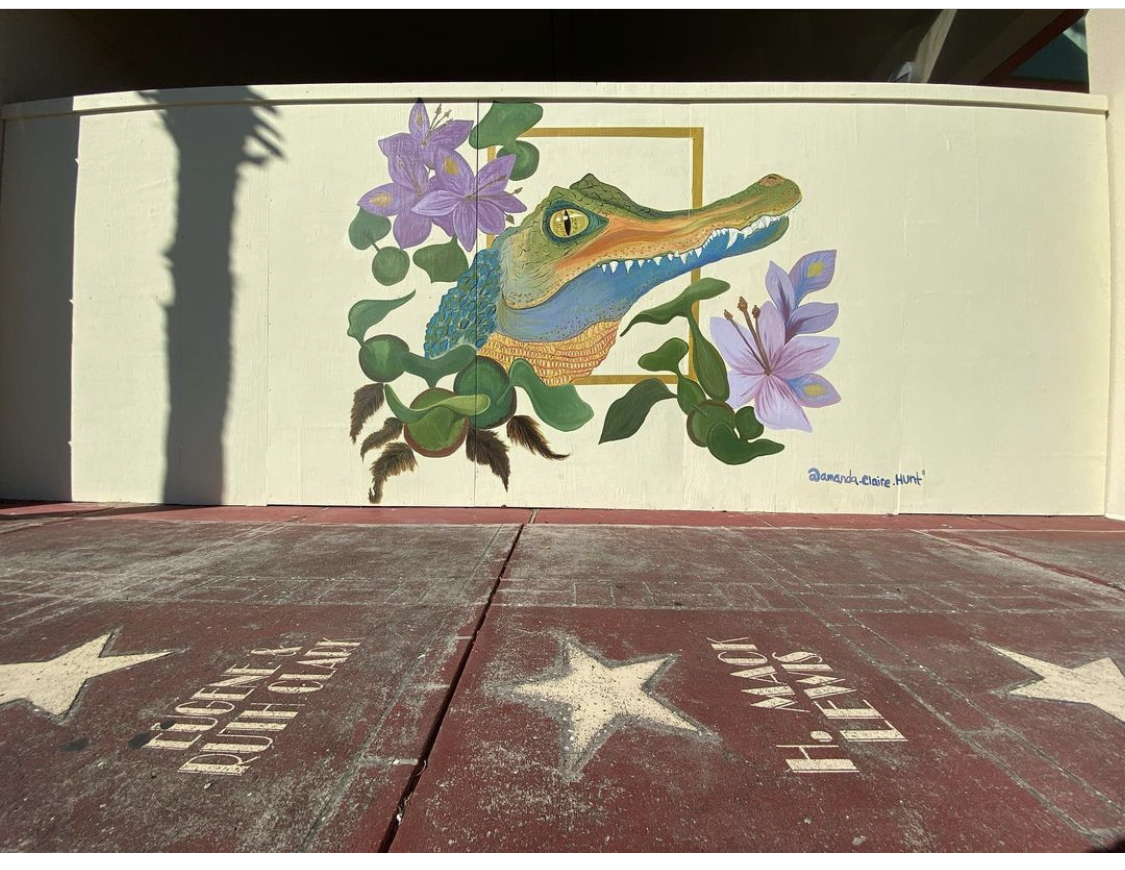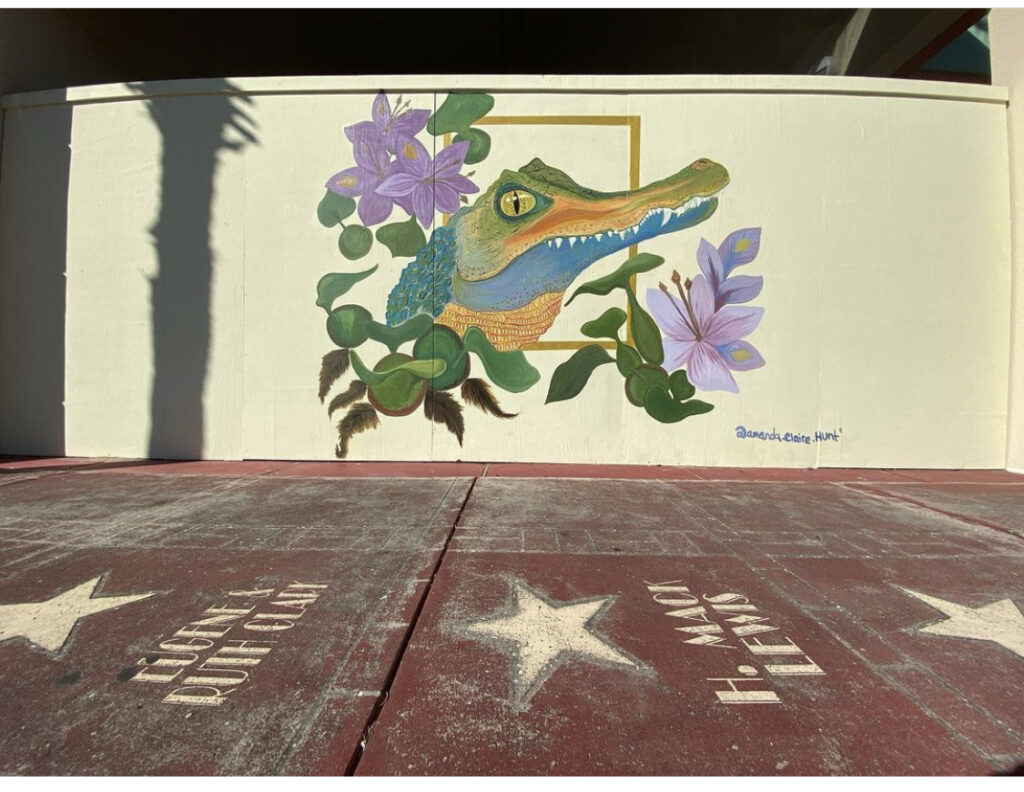 Located at the Martin Theatre, the Gator with a Hyacinth was painted by Amanda Hunt to compliment the historic art deco buidling.
---
Murals in Historic St. Andrews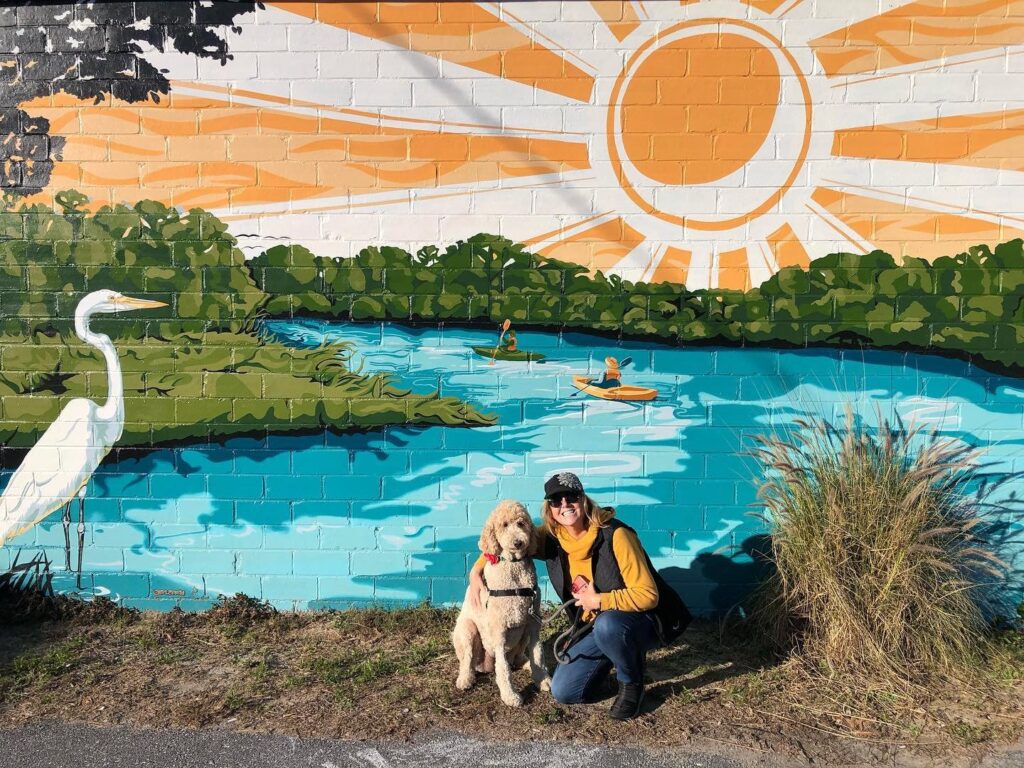 You can't help but feel like you've stumbled upon the best day ever as the warmth and freedom of Day at the Creek washes over you. Located on the side of the popular and quirky Sunjammers building at 1129 Beck Avenue, Panama City, FL 32401 this adventurous mural entices viewers to take the plunge and explore with the paddlers, possibly even uncovering hidden treasures throughout this creative mural by artists, Heather Parker and Jd Justice.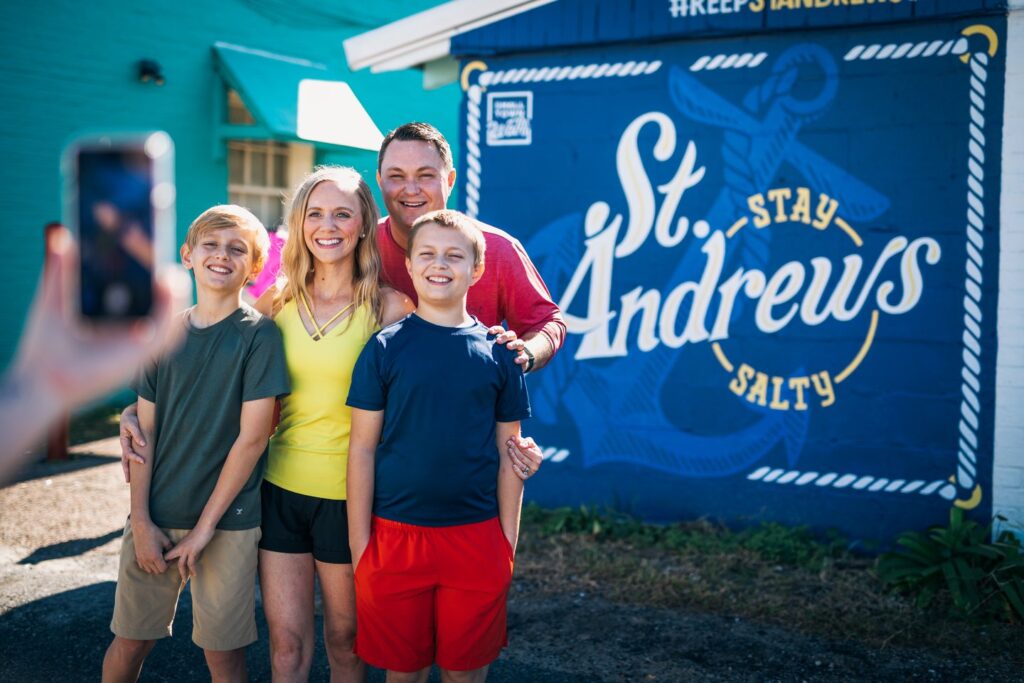 If there is one phrase that captures the character and uniqueness of Panama City's Historic St. Andrews neighborhood it's, "Keep St. Andrews Salty". This mantra captured in art-form by Morgan Summers can be seen at 1120 Bayview Avenue, Panama City, FL 32401. Make this THE photo spot to commemorate all of your favorite "salty" memories.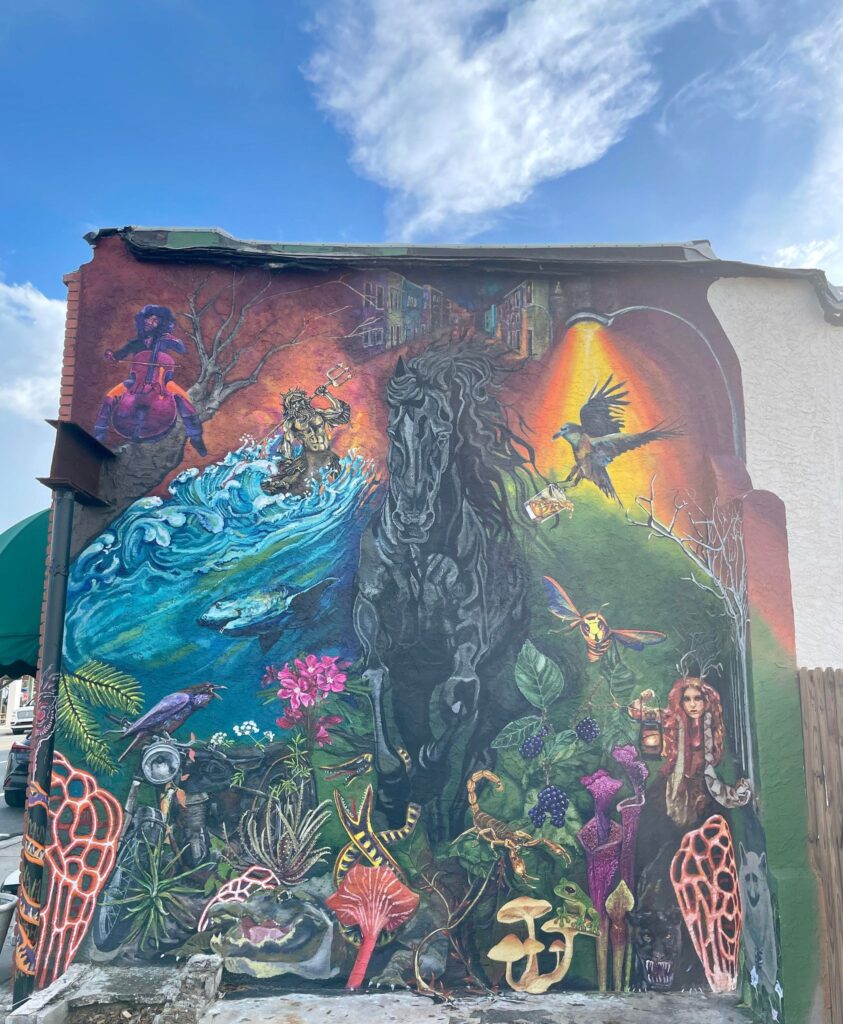 This contrasting pair of murals, with the largest collaboration of local mural artists to-date, faces each other along Beck Avenue in the heart of Historic St. Andrews. A Floriopolis Public Art Project, the Darkside & Lightside murals were made possible by funding from the Historic St. Andrews Waterfront Partnership & St. Andrews CRA and feature artistic contributions from the following artists:
DARKSIDE
AniMae Avrigian
Tesa Burch
Heather Drost
Kim Drost
Brenton French
Morgan Godwin
Terry Knight
Heather Parker
Megan Parker
Paulette Perlman
Aida Torres
Macey
Michael
LIGHTSIDE
Paulette Perlman
Terry Knight
Lou DiRusso
Megan Parker
Heather Parker
Michael
"MS Salty" is nestled along a residence in St. Andrews at 2404 W. Beach Drive, Panama City, FL 32401. She is the spirit of St. Andrews and embodies a connection of local land and sea flora and fauna. Panama City artist, Heather Clements, took several days to design, four weeks to paint, and as always, came to life with lots of passion and perseverance.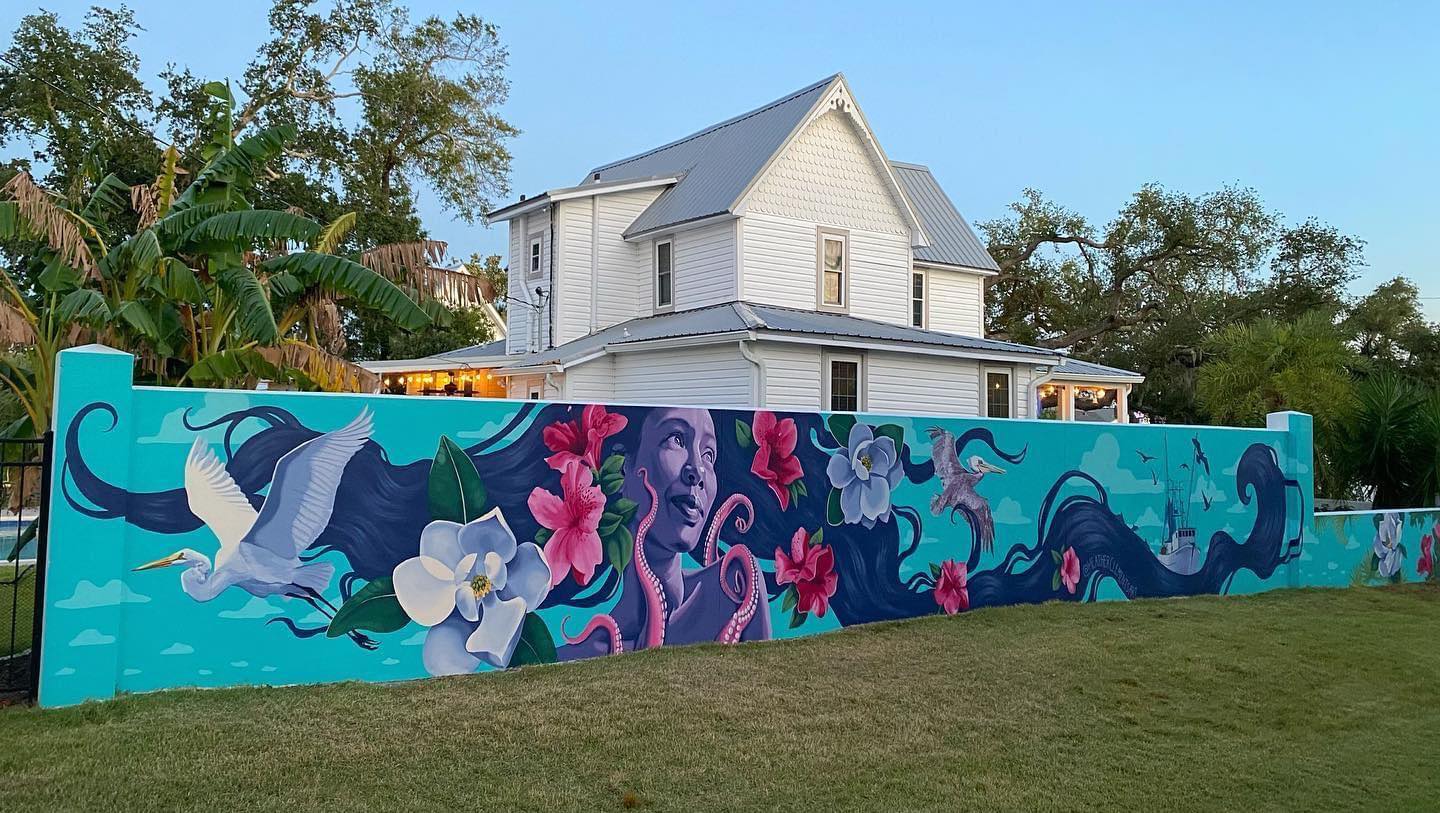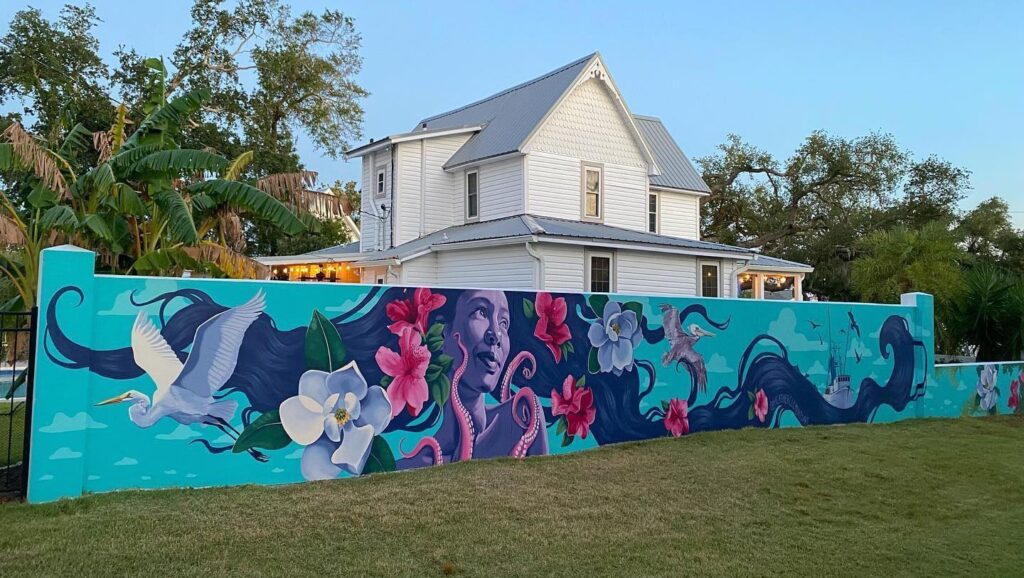 Inspired by the desire to celebrate the lives of loved ones lost, this mural by Heather Clements, holds a special place in the heart of the building owner. These loved ones are represented and honored by distinct elements of the mural: the deer, roses, stargazers, and portrait. Grab a front row seat to this beautiful, sprawling tribute on the Taproom patio, located at 1010 Beck Ave, Panama City, FL 32401.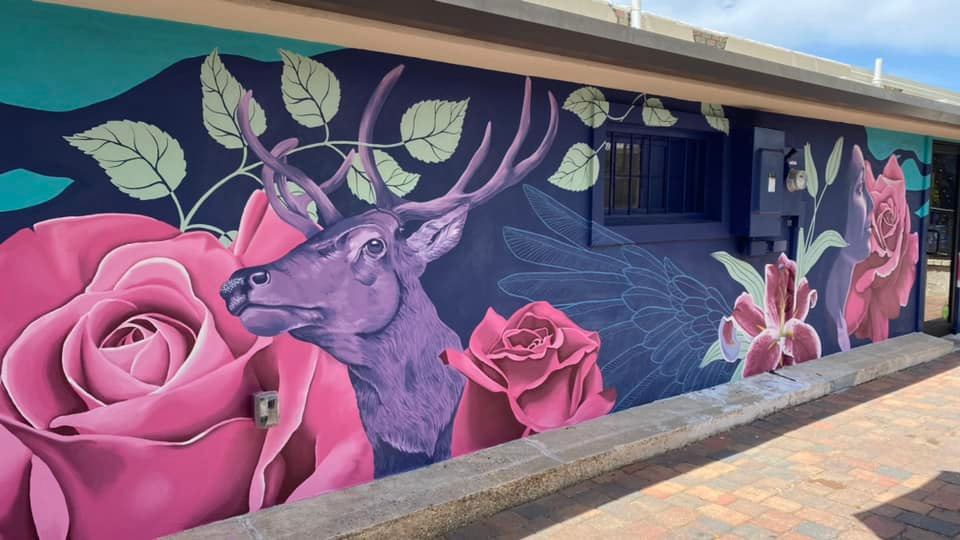 Murals throughout Panama City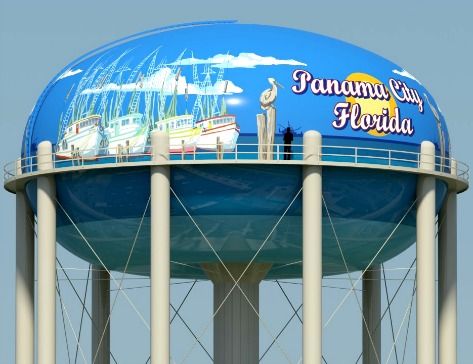 World-renowned artist Paul Brent is known for his watercolor and oil paintings that deftly portray the many aspects of the area he is capturing. The water tower was the very first mural in Panama City, and can be found on HWY 231 beside the Mariner Plaza.
Can you find them all? Snap a selfie with each one and share your photos online with the hashtag #LovePC!