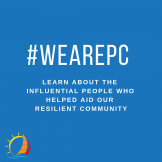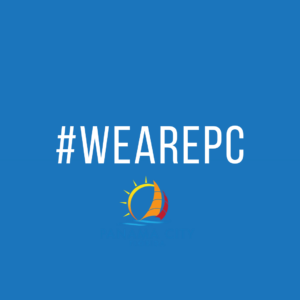 The people who went above and beyond to help Panama City bounce back from Hurricane Michael.
On October 10th, 2018, Hurricane Michael rocked the very core of Panama City. The damage our homes and livelihoods took was substantial and, as the storm clouds rolled away, everyone knew that our city was forever changed. However, when the sun rose the next, the citizens of Panama City stepped up to the plate, rolled up their sleeves, and decided that if their world was going to change, they might as well change it for the better.
The resilience Panama City has shone through this process has been incredibly inspiring. The charitable soul of the community came through to help those in need, even while they suffered alongside those they were aiding. The artists began creating, providing a much-needed escape for exhausted families trying to rebuild. Businesses reopened quickly, providing at least some semblance of normalcy for a lost community.
Over the next few weeks we will be highlighting those who went above and beyond for their community. Keep an eye on this post as we continually add new stories about these amazing individuals and all they did to aid in the greatest recovery story ever told. We are strong, we are resilient, #WeArePC.
___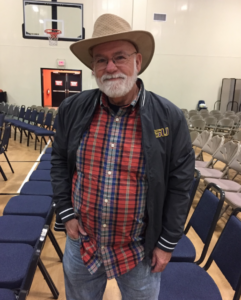 Meet Pastor Mike Claunch,
and the members of St. Andrews Baptist Church, who set up a supply station on their premises just three days after Hurricane Michael hit. Starting out small, they were able to provide water and snack foods for those in need.
"As word of our charitable efforts spread, the amount of resources we were able to offer to the community grew exponentially. Moving from just small prepacked snacks we were able to offer everything from hot meals, to laundry services, to shower stations, and we have even been providing housing for volunteer groups that come through to aid our beautiful city."
Claunch and his team also hosted a Thanksgiving Day dinner on the Church grounds that provided meals for over 500 people who may not have been able to celebrate the holiday in their own homes.
Thank you, Pastor Mike and St. Andrews Baptist, for creating a sanctuary where the community can turn to in the face of disaster. #WeArePC
___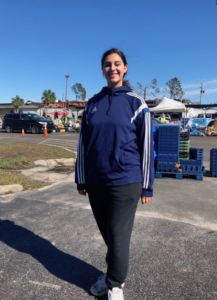 Meet Luke Farabar,
and the St. Dominic Catholic Church, for setting up one of the largest donation/resource stations in the area. The churches donation station provided over 7,500 individuals with food, water, hygiene supplies, and medical services.
"After our operation was being shared on social media, our team grew extremely quickly. Our posts inspired others to come offer their time and resources to help Panama City flourish in these trying times."
Thank you, Father Luke and volunteers, with the St. Dominic Catholic Church for providing so many people in need with supplies. Your efforts do not go unnoticed. #WeArePC
___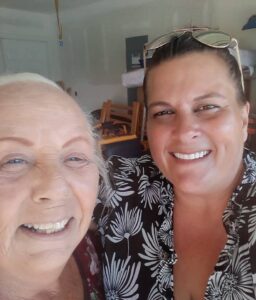 Meet Sinda Wells,
a Panama City local, who created a program called "Barefoot Angel" to help young children and families in dire need. Wells stayed at home during Hurricane Michael, so she was able to collect and distribute necessary donations immediately after the storm.
"Each year at Christmas time I always "adopted" an angel each year off the trees you often see at the grocery store, so I decided to take that idea into my own hands and create something a little more special."
Members of the community adopted a "barefoot angel" during the holidays and donated specific items to that family depending on what they needed.
" I met up with a little eight-year-old girl last week and when I asked her what she wanted for Christmas, all she said was a blanket because she was cold at night. The first four days after the storm, my pillow was my own worst enemy. I couldn't rest at night safe and warm in my home when I was thinking of the terrible situations so many were in. Whether it be an outside toy, clothes, shoes or games, it makes all the difference to those who have lost so much."
Thank you, Sinda, for loving, growing, and staying connected with your community. #WeArePC
___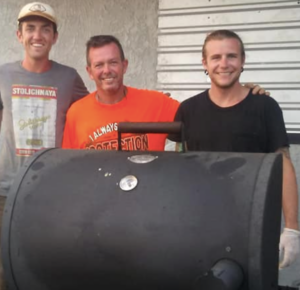 Meet Ernie Hall,
most known as the owner and chef of Just the Cook floating restaurant, who set up a soup kitchen to help feed residents and volunteers in Panama City. Ernie is a true example one of the many humble heroes who demonstrated resilience in the face of disaster. Even though he lost his business in the storm he never lost his spirit.
Immediately after the "all clear," he gathered donations from local and out of state organizations to help the community recover.  He collaborated with other local businesses and used his social media pages to open "Just the Soup Kitchen."
"People in need and first responders are invited to stop by and have a warm meal at no cost" said Ernie.
He also informed the public of community events, volunteer opportunities, and FEMA updates through his Facebook page.
Thank you, Ernie, for stepping in immediately to help and for updating the community on relief efforts. #WeArePC
___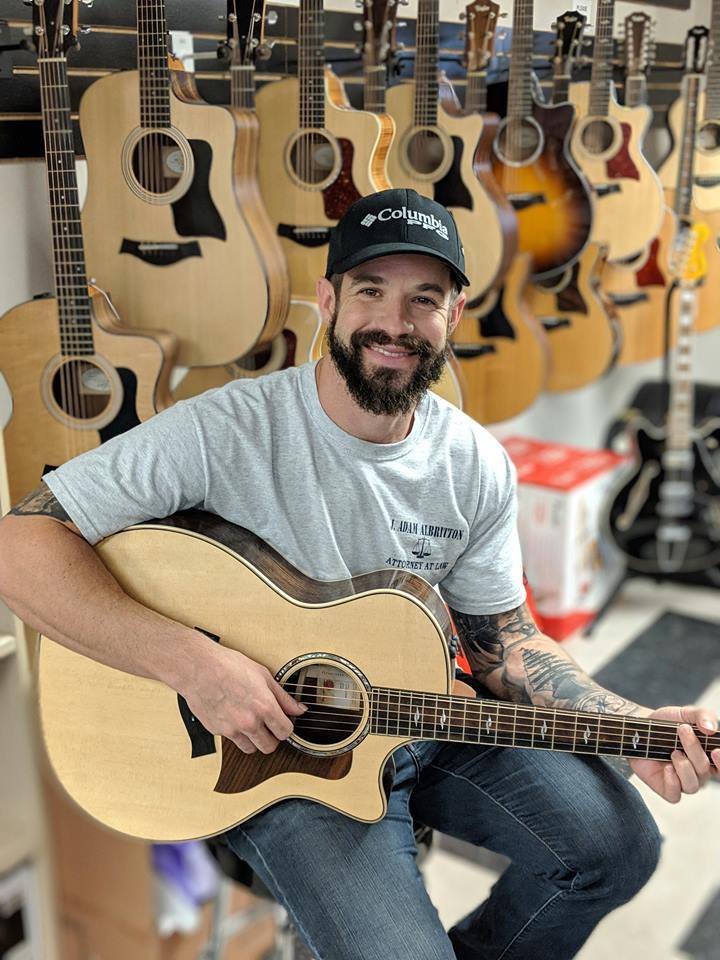 Meet Chris Leitz,
a musician who often finds inspiration in the soul of his hometown, who wrote a song titled "Strong and Proud" to raise money for storm-battered Panama City. Leitz has lived in Panama City for 30 years and wrote the song as an ode to the strength of the community.
"For thousands of years humans have used music to lead their warriors into battle and that is the kind of song I wanted to create. You will also have a great sense of accomplishment in knowing you played a role in restoring the community that you are a part of and will continue being part of."
Chris partnered with fellow musician and local firefighter Nate Pennington, who lent his voice to record the song. The proceeds were donated to the Boys and Girls Club of Bay County.
Thank you, Chris, for donating your profits to an amazing cause and for providing musical therapy to the community in this difficult time. #WeArePC
___

Meet Michael Waldrop,
also known as the Emerald Coast Spider Man, who brought smiles to faces in the aftermath of Hurricane Michael by dressing up in his Spider Man costume.
"I've been spending my time in the areas hit hardest by the storm, because those children need the biggest morale boost," says Michael. Michael spent weeks working with children and adults alike bringing smiles to their faces especially when children weren't in school or daycare due to damage.
Michael is part of a local cosplay community, the Emerald Coast Revengers, who assemble and bring joy to all of Bay County. Thank you, Michael, for embodying such a loved character and continuing to make a difference in the community. #WeArePC
___
Meet Jayson Kretzer,
a local artist and primary organizer of the annual Creative Con, who arranged free studio time, classes, and art therapy to help children use creativity after Hurricane Michael to deal with the stresses of post-hurricane life. "I believe that expression is important, and I hope to see the community flourish as we continue to move forward." In the aftermath of the hurricane, Jayson also worked with the Panama City Center for the Arts, and several other community partners, to provide over 800 children with free Halloween costumes. Thank you, Jayson, for continuously working tirelessly with the Panama City Center for the Arts to keep the creative spirit alive in Panama City. #WeArePC
___

Meet Mariah Lopez and Kim Arencibia,
who gathered donations across the state of Florida to supply families with donations of food, clean clothing, diapers, formula and cribs for babies.  "We ask that throughout this healing process, everyone continue to do small, random acts of kindness. The smallest of things can have the greatest of impacts." In the two weeks following the storm, Mariah and her aunt worked tirelessly to sort the donations and help other locals' tarp 150 roofs across Bayou George and Panama City.  
Kim also runs an organization, The Kids of the Florida Keys, which was founded late last year during the aftermath of Hurricane Irma. With the help of her Facebook following, she was able to find out who needed help during Hurricane Michael and in less than a week she had loaded a full U-Haul. After seeing the incredible positive impact through their giving, they set up another Christmas fundraiser to provide a better holiday season for children impacted by the storm. They made crafts and sold them on her now wildly popular Facebook page to earn money to purchase toys and clothing.
Thank you, Mariah and Kim, for serving the community and for always coming up with creative ways to collect donations.  #WeArePC