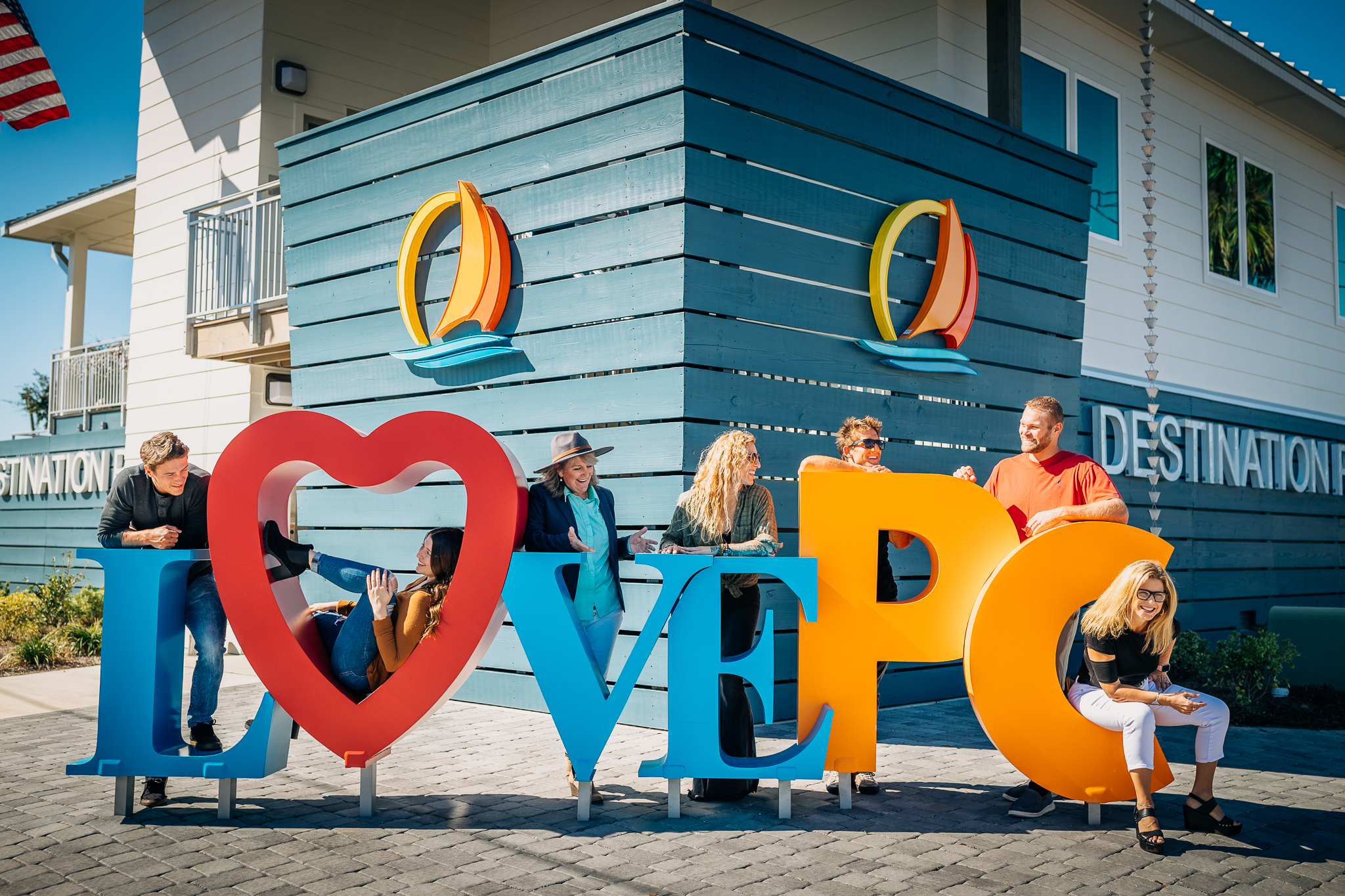 Put Panama City on your bucket list this year with these 22 things to do in 2022! #WhereLifeSetsSail
Destination Panama City – Destination Panama City's brand new Visitor's Center boasts one of the most beautiful bayside spots in town. Stop by for a picture in front of our iconic #LovePC sign and pick up everything you need to explore Panama City: award-winning Visitor's Guide, maps, itineraries, and Panama City swag. Stay a while and enjoy a sunset from the gorgeous deck as vibrant colors light up the sky over the #LovePC Lawn.
Krewe of St. Andrews Mardi Gras – This year marks the 25th Anniversary of the most popular and largest Mardi Gras celebration in Bay County. 14 Krewes will line Beck Avenue in Historic St. Andrews with 30 brightly colored floats as festive music plays and tens of thousands of beads and doubloons are tossed into the crowd.
Panama City Center for the Arts – Home to four art galleries that tell stories and foster conversations about the world around us, the Center for the Arts brings culture, creativity, and community to historic Downtown Panama City. The center fuels multiple interests by offering pottery and basket weaving classes, digital art experiences, summer camps for kids and teens, date night art for couples, competition exhibits, vocal and music performances, community gatherings, and more.
Panama City Songwriters Festival – The 4th Annual Panama City Songwriters Festival takes place on November 4-5, 2022. Historic Downtown Panama City will come alive with the sounds of local, regional, and national songwriters. Patrons will enjoy the songs and stories of these amazing artists while experiencing Historic Downtown in a unique way as establishments such as The Boxing Club and Trigo One Thirty One are transformed into trendy listening venues.
Publishing Museum – Built in 1920, the Panama City Publishing Museum served at the home of the first Panama City newspaper. Today, visitors can see an original printing press along with 70 other major historical items and also participate in take-home hands-on activities.
Mural Trail – Art becomes larger than life throughout Panama City as color splashes across the sides of more than 10 historic buildings in downtown and St. Andrews along the popular Mural Trail. Follow the trail to find some of the best selfie spots in Panama City. #ArtCityPC
Yoga at Baywitch – Not your average yoga studio, Baywitch offers an extraordinary experience of health for the body, mind, and flow. Try out a class with One Heart Yoga, and stock up on crystals, statement items, and the cutest gifts around. You won't be able to resist the magic of Baywitch in Historic Downtown Panama City.
St. Andrews Labyrinth – This hidden gem just off the beaten path in Historic St. Andrews provides a calm place to meditate, reset, relax, unwind, and release your intentions into the universe.
Your-Biker-Gang – FUN is the name of the gang! Savor the local cuisine of Panama City and take in local culture and history with the Panama City E-Bike Adventure. Guided tours lead riders to historic sights and spots, murals, and local restaurants for an authentic and FUN Panama City adventure.
Public Eye Soar – The largest free projection art festival in Florida, will be held on November 11-12, 2022 at Gulf Coast State College. Panama City will come alive with light, sound, art, and fun, featuring local and international projection art, live performances, short films, interactive activities, animation, photography, doodles, sand art, and possibly the world's largest pinball machine. 
Panama City Oyster Trail – What is your oyster inclination? The Panama City Oyster Trail leads travelers on an excursion to discover Panama City's year-round undying love for oysters all ways, always! Gene's Oyster Bar, Hunt's Oyster Bar, and g.Foley's are just a few local favorites on the trail that prepare fresh oysters just the way you like them: raw, steamed, fried, chargrilled, sauteed, baked and cheesy, and more.
Historic Walking Tour – Discover the stories that make Panama City historic! Stroll about at your own pace, visiting the places of Panama City's past while glimpsing into its exciting future.
Panama City Hot Glass Studio – If you want to see Panama City's art scene literally on fire, head over to the Panama City Hot Glass Studio. On-site glassmiths create works of art right before your eyes as you sit back and take a sip from the beer and wine cooler. Feeling adventurous? Gather friends and family and try your hand at glass blowing with a private class.
Blessing of the Fleet – There is no doubt summer has arrived when locals and visitors gather for the Blessing of the Fleet and Free Your Feet Sock Burning Festival. This popular event signals that it's to break out the flip flops and bless the boats in the St. Andrews Bay.
Panama City Ale Trail – Charter your course to find an authentic Panama City ale experience like no other. This trail highlights an abundance of cold brews guaranteed to quench your thirst and impress your palette. Enjoy a few originals at two self-brewing stops: History Class Brewing Company and Salty Oak Brewing Co.
A Day on the Bay – Discover why Panama City is #WhereLifeSetsSail with numerous water excursions to choose from. Conquer sailing lessons for kids and adults at Reef Runners Sailing, charter a boat for the best offshore fishing the Gulf of Mexico has to offer, escape for a leisurely afternoon on a paddleboard, or try Panama City's newest and most unique night-time water attraction with All Inclusive Adventures' Glow Paddle Adventure kayak tour. Explore Panama City's beautiful shore like you never have before! 
Escape Manor – Gather your favorite fellow sleuths and solve a real-life Panama City mystery at the Escape Manor in Historic Downtown Panama City. See if you have what it takes to work as a team and solve the puzzles and complete the challenge in three different escape rooms options.
Tutu Pink Parties – Everyone is a princess at Tutu Pink. Throw on your hair bows and pamper your toes with a signature Tutu Pink special occasion party. The boutique area offers pretty present ideas for all the little princesses in your life.
Science and Discovery Center of Northwest Florida – Treat your senses with an immersive experience at the Science and Discovery Center of Northwest Florida. Stories and hands-on experiments await the young and the young at heart.
Dueling Pianos – This is a battle you won't want to miss! Every Wednesday night House of Henry hosts a dueling piano show, allowing patrons to sing along and request favorites while enjoying an authentic Irish meal complimented by an extensive beer list.
Tarpon Dock – A taste of the Gulf comes from the dock right to your dinner table with fresh local seafood from Tarpon Dock. Savor fresh steamed shrimp, crawfish, and more!
Papa Joe's Bayside – A fun, relaxing retreat for family and friends to gather and enjoy the bay, live music, and the flavors of local food trucks. Explore the water with pontoon and jet ski rentals, master a new sport with JetSurfPCB, or book a sunset cruise on the stunning Grand Mere.
Begin planning your next trip to Panama City now! Request your visitors guide HERE!