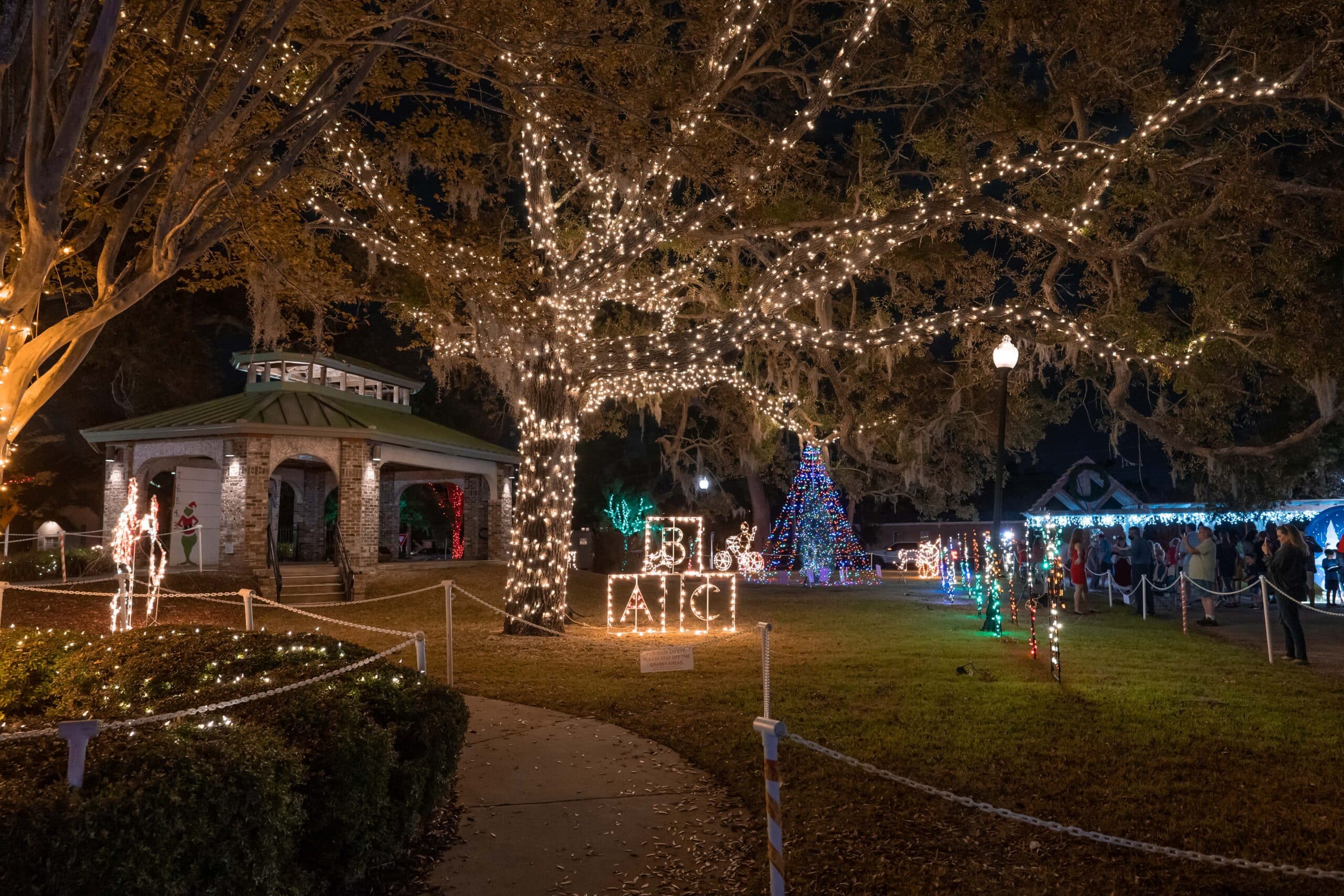 All Aboard the Jingle Bell Express in Panama City
Let the Jingle Bell Express Take You to all the Christmas Festivities
Jingle bells, jingle bells, jingle all the way around Panama City on the Jingle Bell Express. A magical holiday experience, the Jingle Bell Express connects riders from Historic Downtown Panama City to St. Andrews to find all of the Christmas wonders to be found in both neighborhoods. Brought to you by Bayway and Destination Panama City, you can hop on the jolliest ride of all to take you to enjoy the holiday festivities for FREE – and it's family-friendly! The enchantment and glow of the season can be felt with twinkling light displays, horse-drawn carriages, Christmas parades, and local shops filled with holiday gifts.
Caroling on the Jingle Bell Express
The Jingle Bell Express will be filled with special holiday surprises on board for the entire family. Sing along with carolers from the Panama City A Capella Chorus. Beach Drive will be showing off for trolley passengers with a view of lights reflecting off the water and beautiful, historic houses dressed to impress.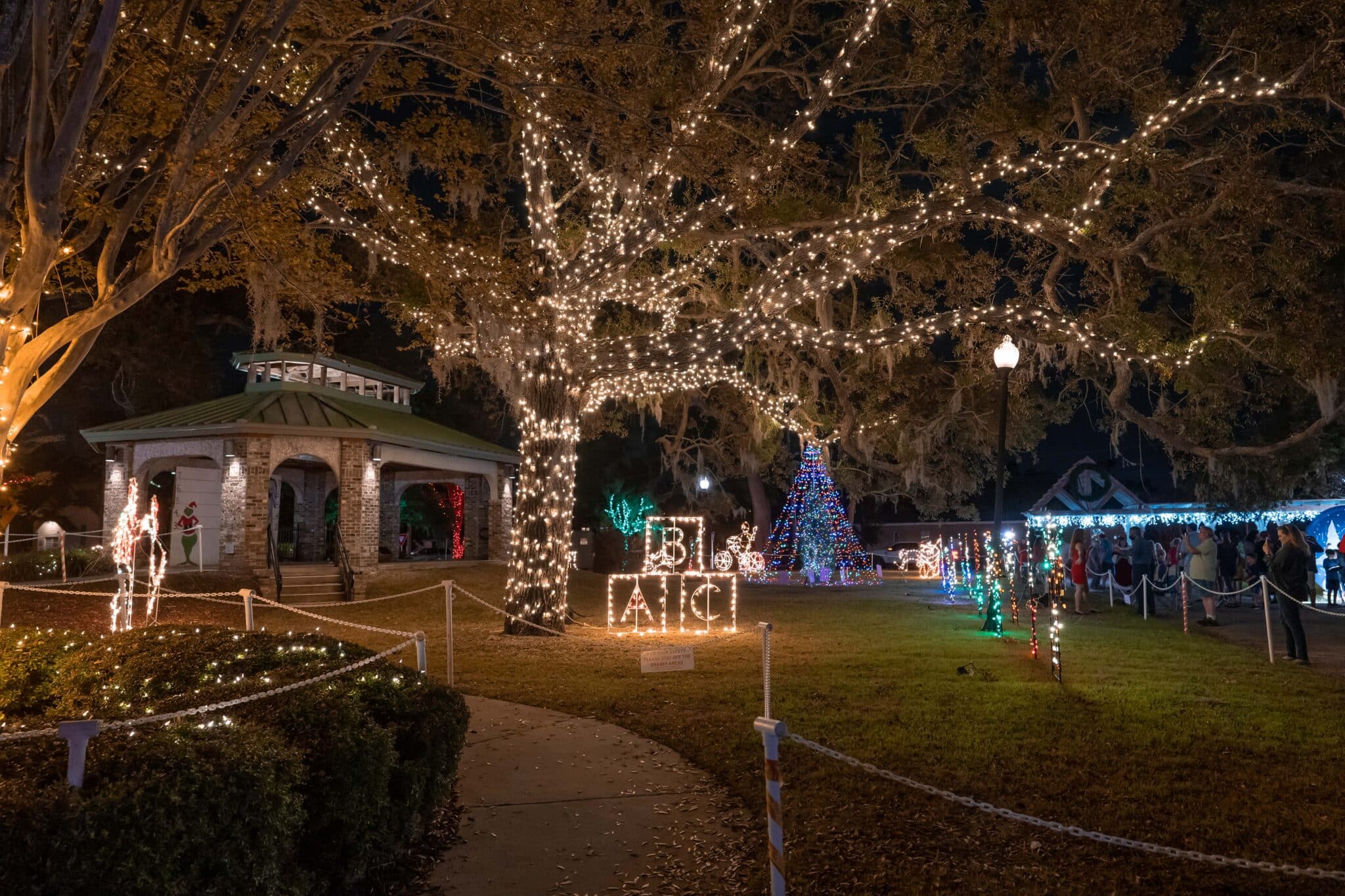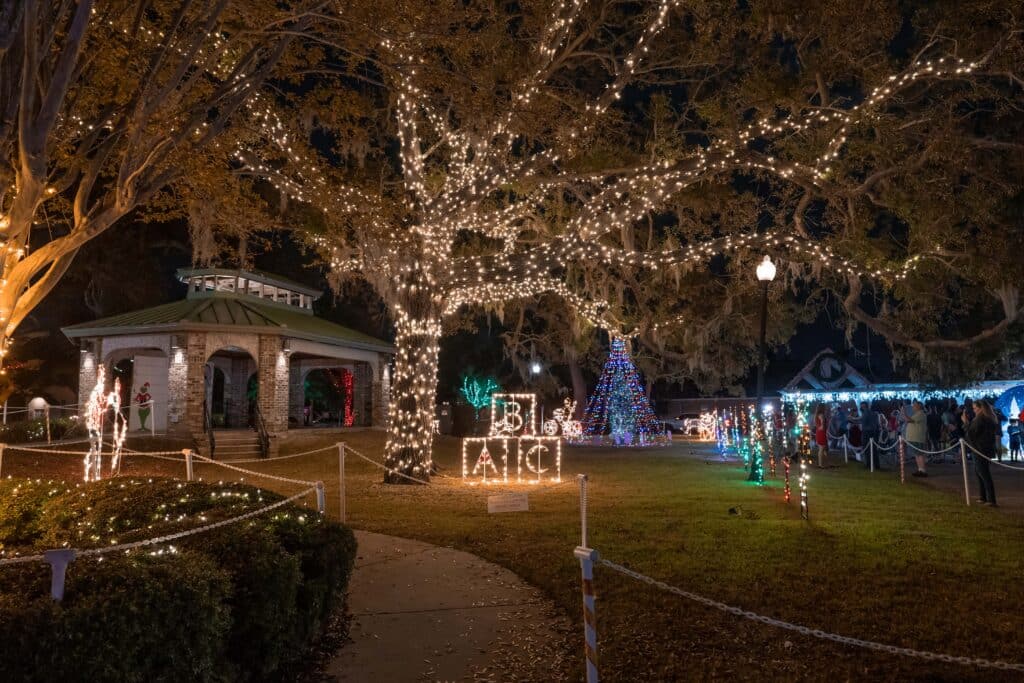 When Can I Go on the Jingle Bell Express?
Each Friday and Saturday evening during the first three weekends in December, you can embark on a journey between Historic Downtown Panama City and St. Andrews. The Jingle Bell Express will run from 5-9 PM each night, with various pick-up and drop-off points in Downtown and St. Andrews.
Where Can I Find the Jingle Bell Express?
The Jingle Bell Express will make stops at multiple businesses and locations. In Downtown Panama City, you can hop on at Destination Panama City, History Class Brewing, and Mosey's. Historic St. Andrews will have three stops at Oaks by the Bay Park, Hunt's, and Little Village. In between stops, discover the enchanting shops, restaurants, and events that Panama City has to offer. So, all aboard the Jingle Bell Express to have the most magical holiday in Panama City.
Find More Magic in Panama City
There's always magic to be found in Panama City, but it's a little more spectacular when it's lit up with Christmas lights. You can discover both of Panama City's charming downtown areas on the Jingle Bell Express, but there is also a full calendar of festive holiday events happening all month long in Panama City!
Christmas in Historic Downtown
Downtown Panama City is the perfect idyllic backdrop for a quaint, yet bustling Christmas celebration. Get your holiday shopping done at the Downtown Farmers Markets or one of the many shops filled with one-of-a-kind Christmas goods. Spirits will be brightened all season long with a variety of events, including the annual Christmas Tree Lighting, horse-drawn carriage rides along Harrison Avenue, meeting Santa Claus, Story Time with Mrs. Claus, and so much more!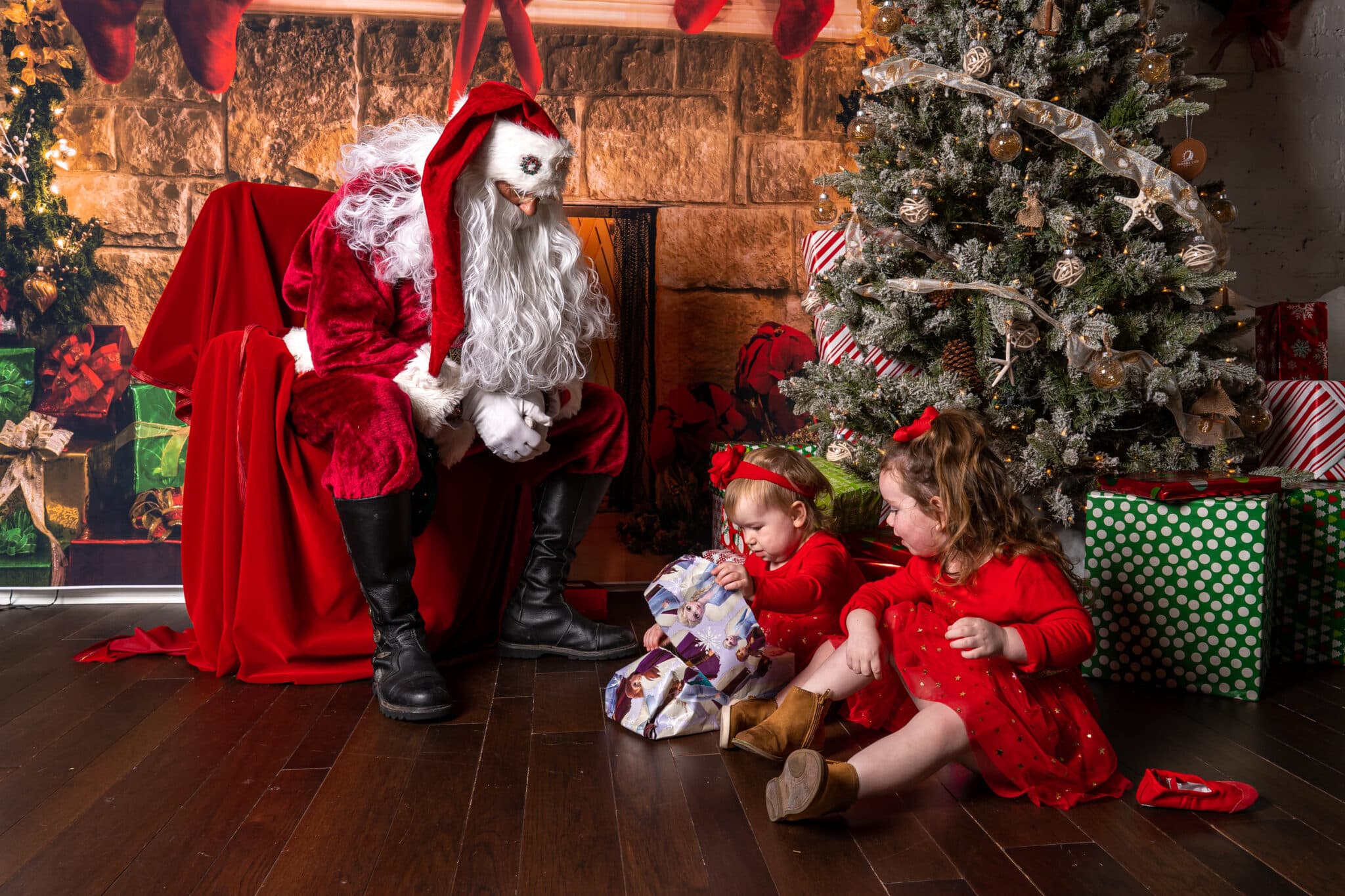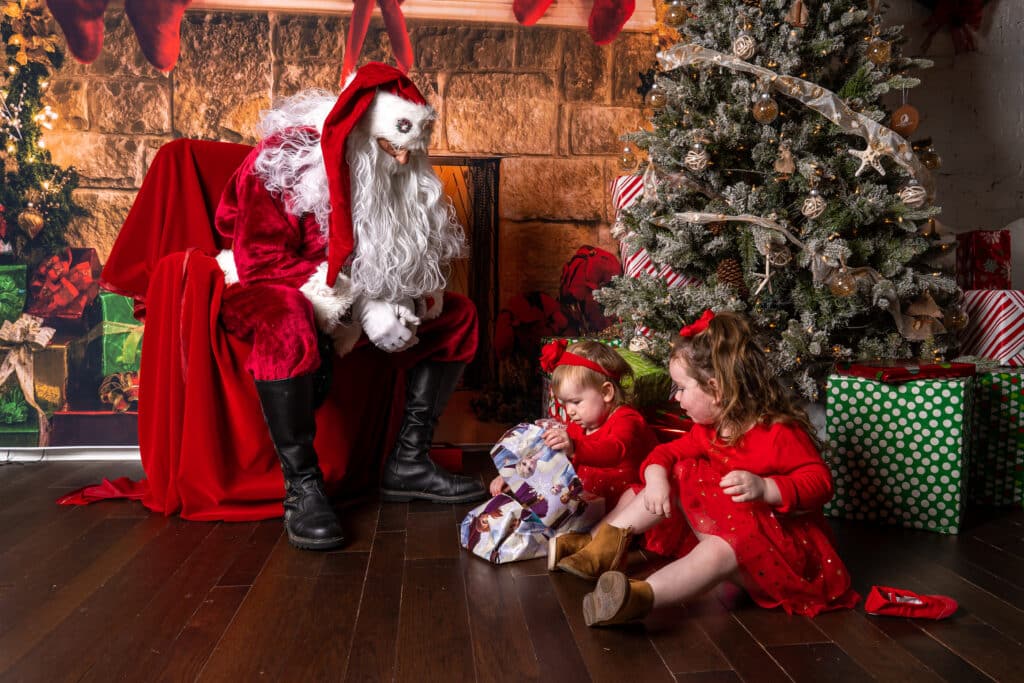 Christmas in St. Andrews
Get ready to be transported into a Winter Wonderland in St. Andrews when you arrive at Oaks by the Bay Park. One of the best light displays in Panama City, Light up the Park at Oaks by the Bay is a Christmas light experience that your family can walk through and learn about the history of this neighborhood. The magic begins at 6PM on November 25, when the tree is lit, the hot chocolate is served, and the St. Andrews Ukelele Orchestra performs your Christmas favorites. Then, take a stroll down Beck Ave and explore the rest of St. Andrews, where you'll find cafes, bars, boutiques, and restaurants decked for Christmas.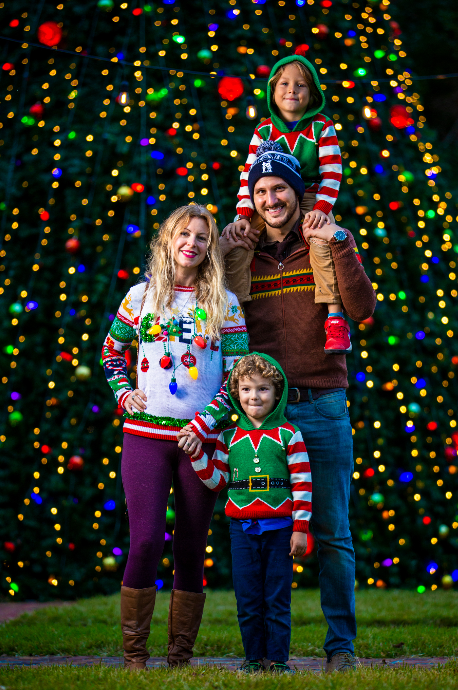 Find More Holiday Happenings in Panama City, Florida!
Looking to make the most of your holiday season in Panama City, Florida? Look no further than our comprehensive events page, your ultimate guide to all the festivities happening in the city. From the charm of Shop Small Saturday, where local businesses showcase their unique offerings, to the enchanting Oaks by the Bay Christmas Lights display that lights up the night sky, we've got you covered. Don't miss the magical atmosphere of the Downtown Christmas Tree Lighting ceremony or the excitement of the Jingle Bell Express and the Boat Parade of Lights, all guaranteed to fill your heart with holiday cheer. Whatever your preference, our events page is your go-to resource for discovering the best events and holiday happenings in Panama City, ensuring you don't miss a single moment of the festive fun!