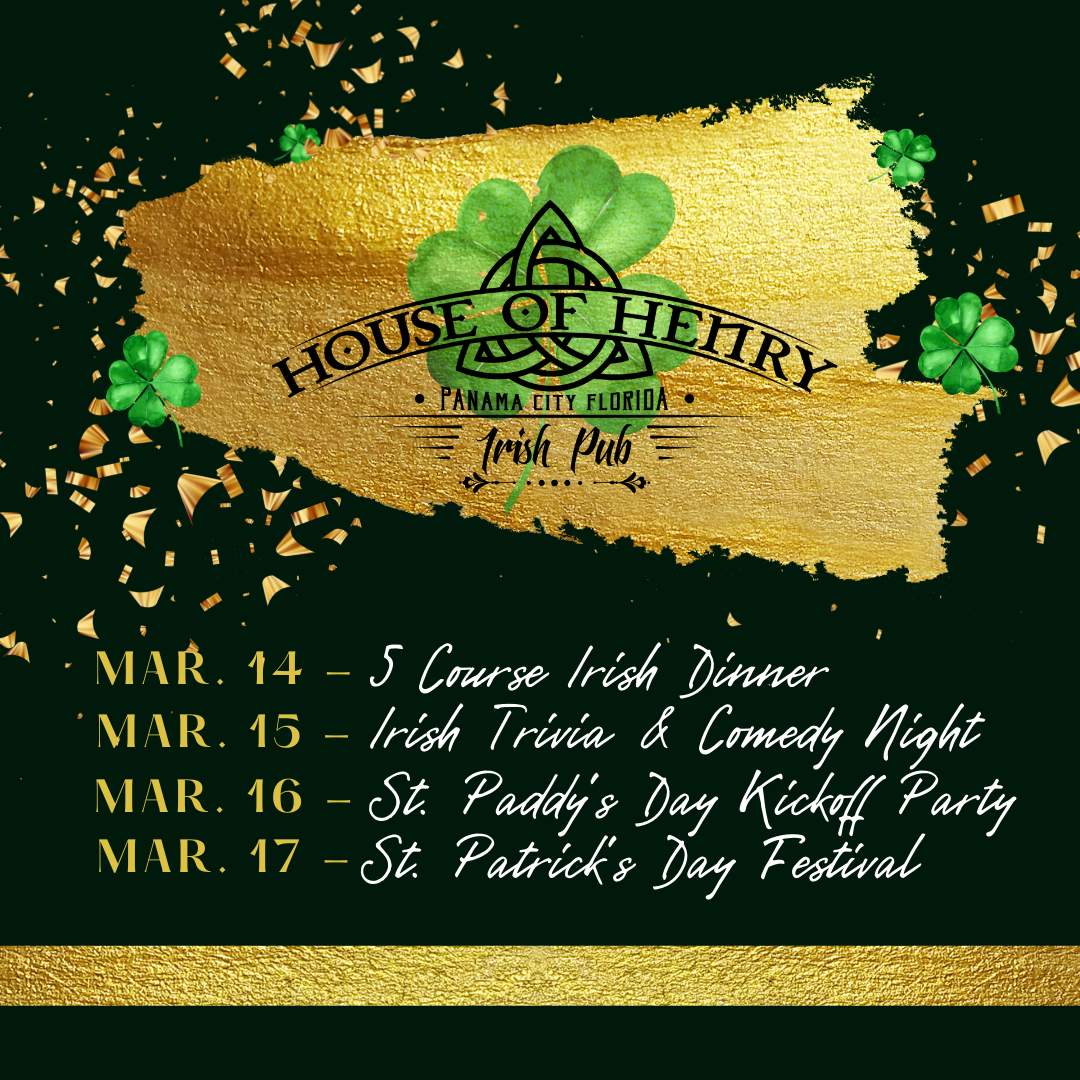 Let the Shenanigans Begin!
Why limit the St. Patrick's Day shenanigans to one day? This year's 2nd Annual St. Patrick's Day Festival at House of Henry offers four days of beers, cheers, and fun for all.
Monday is all about the Menu
House of Henry's first ever five-course Irish Dinner launches a week-long St. Patrick's Day celebration on Monday, March 14th, featuring traditional dishes that represent the Republic and all of the savory food that can be found in Ireland. This private ticketed event includes non-alcoholic beverages, entertainment, and a five-course dinner:
Course 1: Calconnan Soup with Irish Soda Bread Crostini
Course 2: Three ways Irish Salad
Course 3: Doublin Coddle
Course 4: Mairteoil Spiorathe and Bruitlin
Course 5: Traditional European Dessert montage
Taste your way through St. Patrick's Day with this main event, grab tickets here.
Two for your Tuesday
Gather your closest friends and family and find out if you're full of a bit o' wit or a bit o' blarney. Let Irish Trivia with Megghan McDougall on Tuesday, March 15th from 6pm-8pm test your team's knowledge of the Irish. Maybe you'll be lucky enough to take home the pot of gold!
"A good laugh and a long sleep are the two best cures.", and there's no better way to wrap up your evening than with hilarious gags and antics during House of Henry's St. Patrick's Comedy Night from 9pm-11pm.
Wind up on Wednesday
Don't press your luck by waiting until St. Patrick's Day to celebrate. Grab a glass, raise a toast, and request your favorite Irish drinking songs from Sangland Entertainment's popular Dueling Pianos from 7:00pm-11:00pm on Wednesday, March 16th, followed by the highly anticipated "Kill the Keg" challenge to kick off St. Patrick's Day. At midnight the keg starts flowing with FREE green beer for all! But wait…no hi-jinks here…the rules are "Everyone drinks free until someone pees!". Don't be the first to break the seal or you'll be the one to foil this deal!
Thursday is Throwdown
Thursday's shenanigans break wide open with a magical all-day festival at House of Henry, stretching along Historic Downtown Panama City's 400 block of Harrison Avenue between 4th & 5th Streets. Start your St. Patrick's Day with the "Kegs & Eggs" breakfast special at House of Henry and follow the rainbow through a fun-filled afternoon and evening of live music, green beer, sno cones, tattoo and body painting, retail, vendors, and more! Favorite local artists will take to the indoor and outdoor stages to entertain:
12:00pm – Heidi Henry
3:00pm – Anne Cline (outdoor stage)
5:00pm – True Soul
8:00pm – Jay Moody
8:30pm – Pipe & Drums
9:00pm – Anne Cline (indoor stage)
Join your fellow leprechauns and journey along this golden week-long St. Patrick's Day adventure! Don't forget to take home your very own souvenir House of Henry "Let the Shenanigans Begin" St. Patrick's Day tee to commemorate this unforgettable escapade!