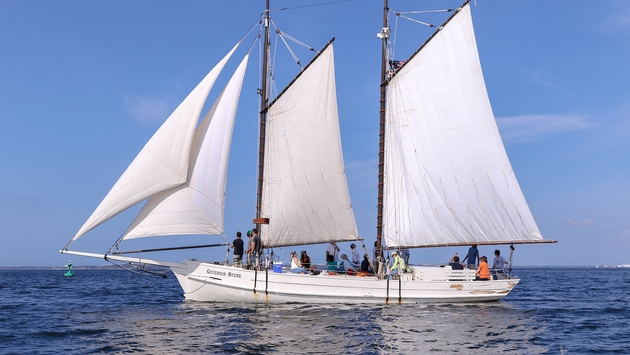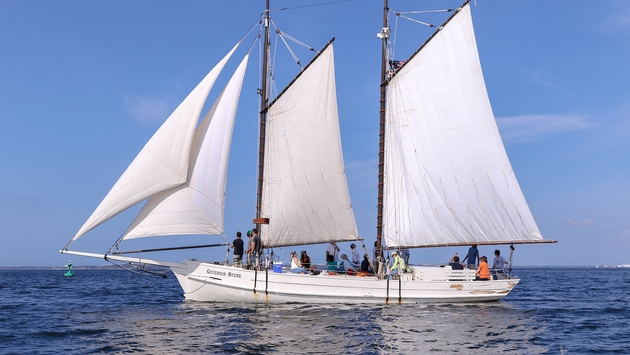 The Governor Stone is a National Historic Landmark located in Historic St. Andrews.  The last known survivor of a class of vessels once numbering in the thousands, the Governor Stone celebrated her 140th birthday in 2017.
She was featured in Travel Pulse as one of America's Most Historic Tall Ships. In the United States, the National Register of Historic Places includes more than 120 vessels, of which many are well-preserved tall ships that chronicle the history of the continent through tales of exploration, war and commerce – including the Governor Stone!
Built in 1877, the Governor Stone initially delivered materials to deep-draft ships lying offshore and hauling cargo between ports along the Gulf Coast. Later, under new ownership, she worked as an oyster buy-boat, transporting oysters to the market. During Prohibition, the vessel was used to bring contraband rum from Cuba, in addition to the oysters. In 1942, she was purchased by the U.S. War commission and operated as a Navy training vessel through the war.
In 1965, John Curry and his wife purchased the Governor Stone, and learned to sail and lived on the boat. They sailed the history of the boat talking to and meeting people who remembered her past. He funded the restoration that made her into a cargo freighter once again.
With a long history and after being restored several times, the Governor Stone was listed as National Historic Landmark in 1991. Today, she sails as an enhancement to cultural, historical, and ecological education and community events along the Northern Gulf Coast.
You can sail aboard the schooner for FREE on the second Saturday of each month (weather permitting), while relaxing on the last known working shallow draft Gulf Coast schooner. Seats are limited and are given on a first come, first served basis at the St. Andrews Waterfront Farmer's Market on the day of the sail.