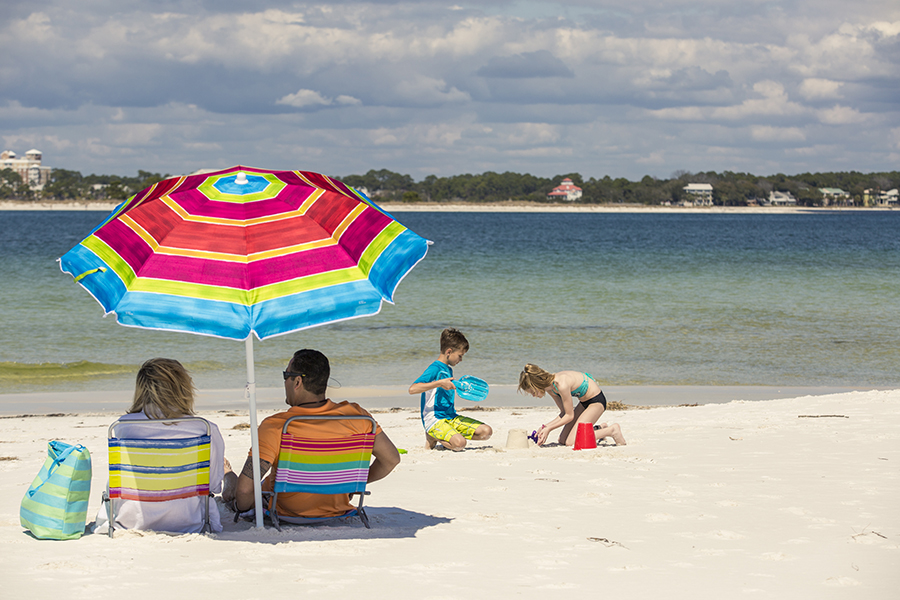 10 Things to Do in Panama City, Florida with Kids
Get creative at Floriopolis, a uniquely inviting family-friendly art gallery and interactive studio. Not only can you shop for one-of-a-kind creations by local artists, but you can make your own! Bring the family to take a 10-minute art break by participating in Art on the Spot, a free mini art lesson disguised as fun projects! Art on the Spot happens daily, but the theme changes weekly! If you want to create your own museum-worthy masterpiece, enjoy open Studio Days, where you'll be provided a working space and a variety of different supplies to use! Whether you want to paint a picture or build a robot…Floriopolis is the place to go!
Disc Golf
No family vacation is complete without a little competition! Play a family-friendly game of disc golf for free at one of the many disc golf locations in Panama City. Not only is it fun for all ages, but it's a great way to elicit lots of laughter and create lasting memories. You can find great disc golf courses at Bay Memorial Park, FSU Panama City campus and Joe Moody Harris Park.
Escape Manor
Are you ready for a night of exciting live action entertainment? If you answered yes, then make your reservations at Escape Manor now! Perfect for families with older children, this is an hour-long adventurous game of strategy to solve the mystery at hand and unlock the room. But you better hurry, because you're on a time limit! The entire family will have to work together to crack a series of codes, puzzles and riddles using clues and hints to unveil the secrets hidden in the room.
Design your very own ceramics at Jani Ceramics. With hundreds of ceramic shapes on the shelves, you can pick your perfect piece! Design and paint a one of kind masterpiece with dozens of beautiful, vibrant paint colors to choose from. After it's been glazed and fired, you can take it home! No matter what your age or skill level, you'll have a great time! Bring the whole family and sit back and enjoy your creative time at Jani Ceramics!
Experience the Gulf Coast one of the best ways possible…on a kayak! Emerald Coast Kayak Charters will take you on a guided expedition through the crystal blue waters of St. Andrews Bay.
Catch a show at the Martin Theatre, an old-fashioned art deco theatre. The theatre first opened its door in 1936 as the "Ritz", but bas since been fully renovated. Early memories boast visits by such notables as Clark Gable and cowboy great, Bill Elliot. Now, the family-friendly theatre hosts a variety of shows, events and themed movie nights!
The Science and Discovery Center of Northwest Florida is a fun and engaging destination for children to inspire, create, explore and have fun! Through hands-on learning, interactive exhibits and programs, children and adults are educated in science, technology and history.
Explore Shell Island, an uninhabited barrier island stretching for 7 miles between the Gulf of Mexico and St. Andrews Bay. You're likely to catch a pod of dolphins playing in the water, and can even jump in to join the fun! Once on the island, there's endless amounts of fun to be had! Shelling, snorkeling, fishing and maybe even a sea turtle sighting! You can rent a pontoon boat, or even jet skis, for unguided excursions to the island. Whatever you decide, relax and enjoy the sunshine on your adventure!
Explore St. Andrews Bay on a guided expedition with Ashley Gorman Shell Island Cruises. Snorkel the shallow waters of the Bay and then venture into the Gulf for a chance to swim with the dolphins! Fun for all ages, kids can collect sea shells and explore marine life. The 3 and ½ hour trip includes snorkel gear and a hotdog lunch with chips and drinks.
Have a sweet tooth that won't quit? Do you eat cupcakes for breakfast? Does hearing the words "icing shots" make you drool? Then you need to run to Sugar Boogers! And the name of their business is even sweeter than their specialty cakes – it was inspired by a nickname that the owner's grandpa called her Oma. Sugar Boogers is the place to stop if you're looking for cookies, ice cream, or gourmet cupcakes on an exciting day in Panama City, or if you're looking for a cake for a special occasion!