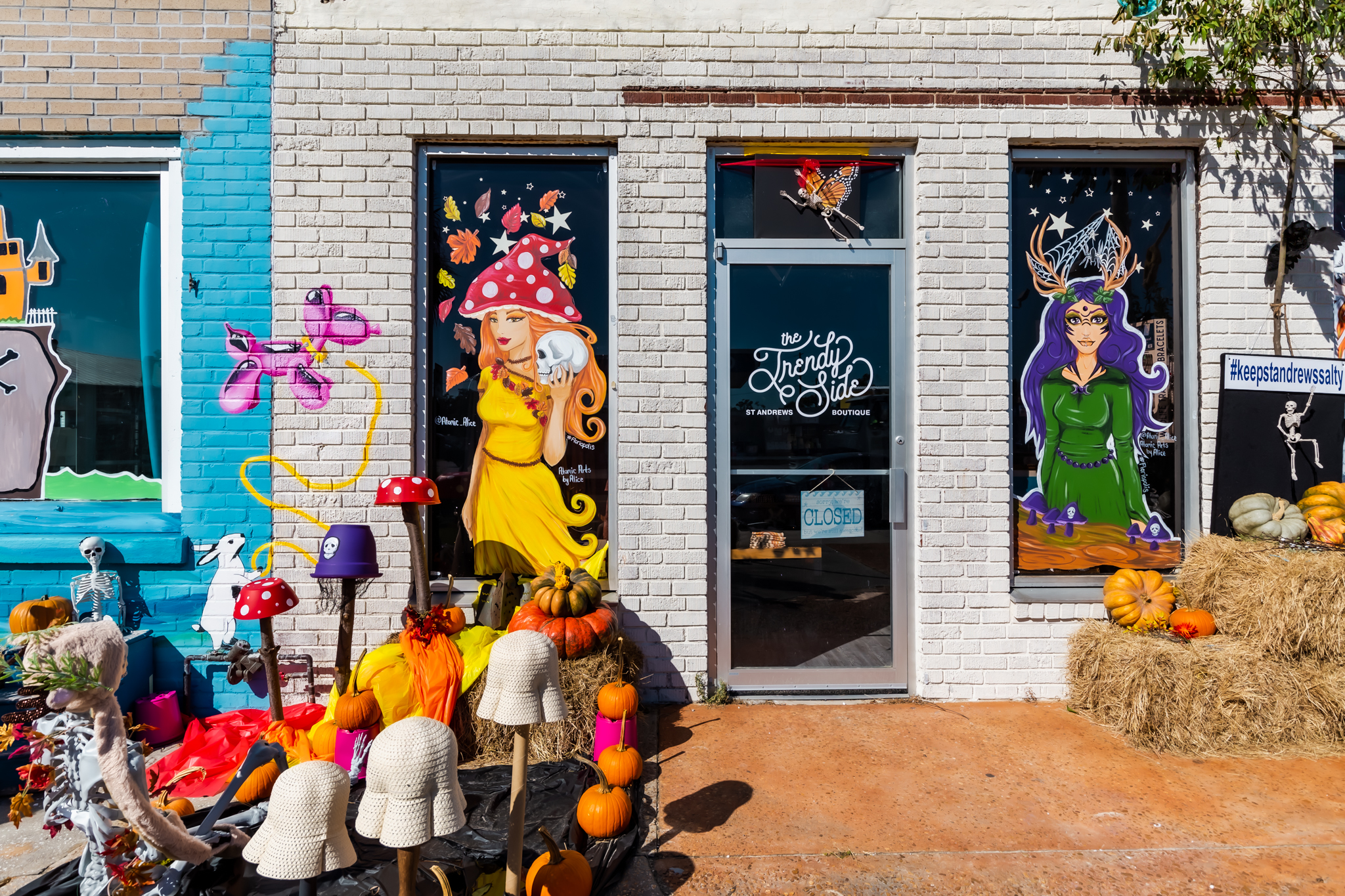 The Ultimate Guide for the Best Halloween in Panama City
Halloween in Panama City
If you're looking for a magical and spooky place to celebrate Halloween, then Panama City, Florida is precisely where you need to be. From haunted houses in hauntingly historical buildings to bicycle riding witch parades, you'll find the spirit of Halloween around every corner all October long. We've done the due diligence for you to put together the ultimate guide to Halloween in Panama City because we don't want you to miss out on a single thing.
Take a Stroll in Panama City's Historic Districts
Downtown Panama City and Historic St. Andrews are two must-see places to get you in the Halloween mood. Local businesses don't take Halloween in Panama City lightly, decorating their storefronts early in October. You'll be greeted by witches, ghosts, and skeletons waving at you through the windows, and some of the most impressively spooky window art hand-painted by local artists. Pumpkins and haybales line the sidewalks, and you'll even find mini DIY photo booths set up for the perfect fall photo ops. Friendly families of skeletons welcome you into almost every storefront, whether they're hanging out in the trees and flower gardens or gathered around a table. If you can't make it to any of the Halloween events and happenings, a trip to Downtown Panama City and Historic St. Andrews is worth the day trip just to see all of the decorations.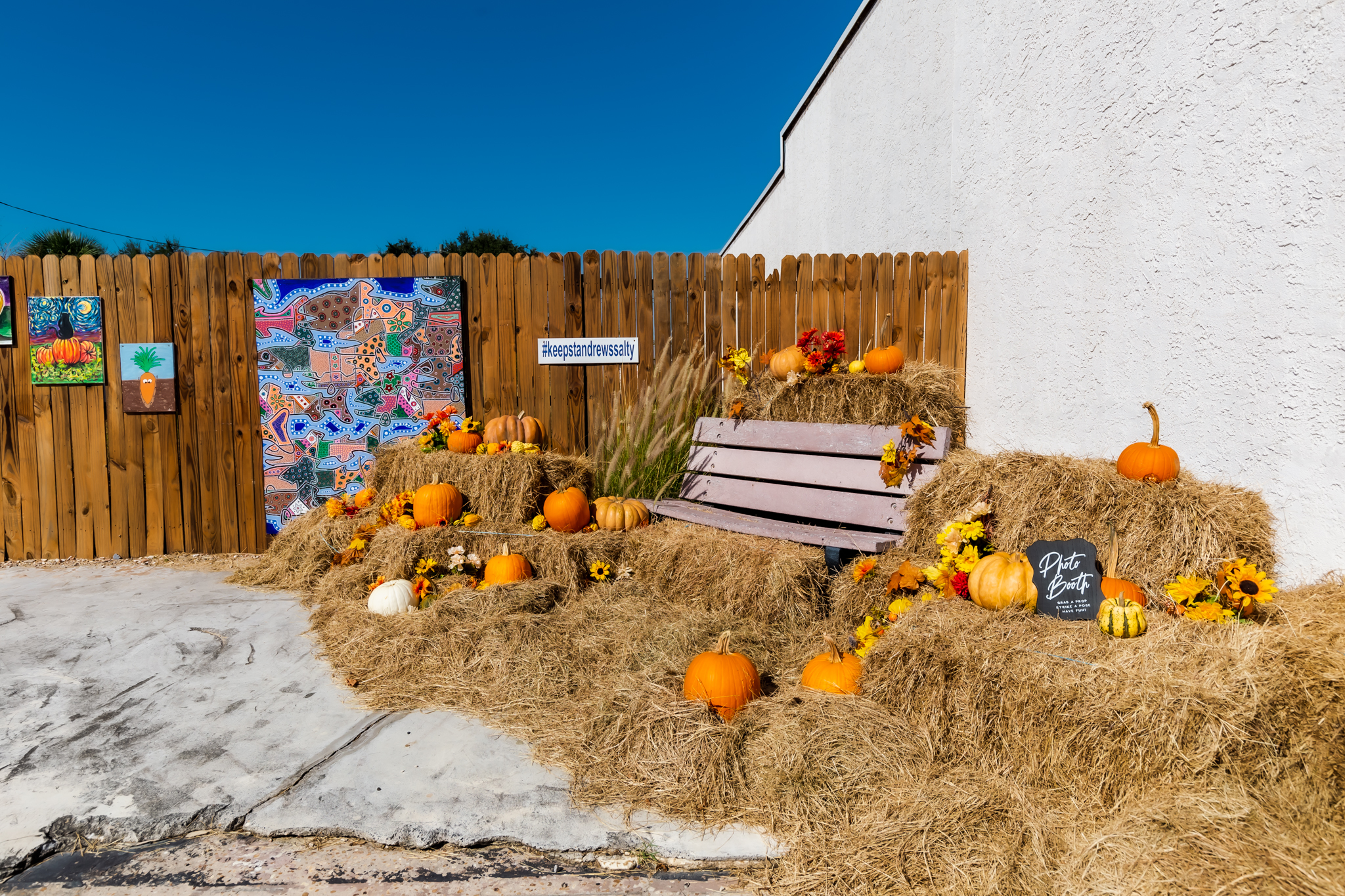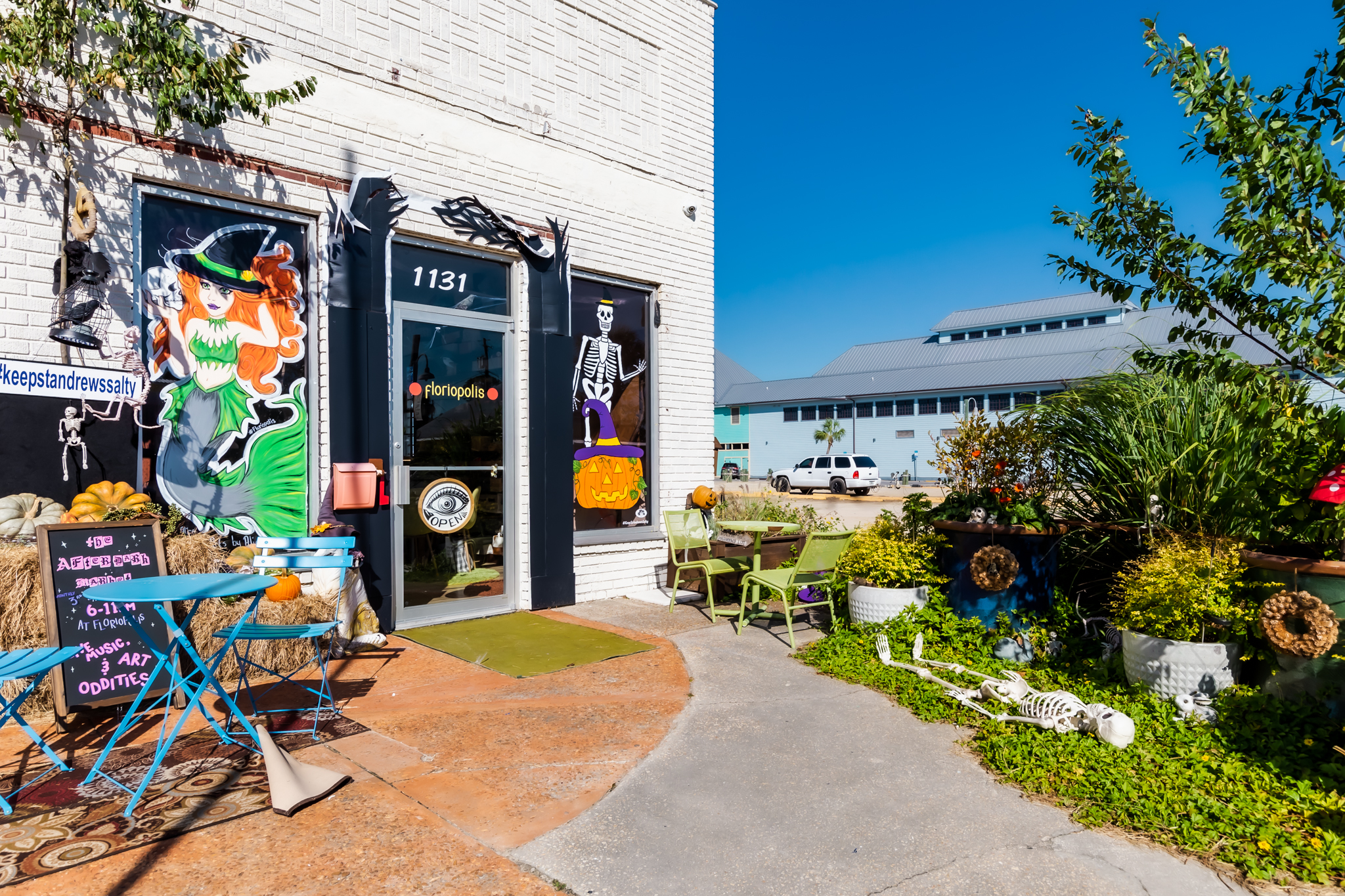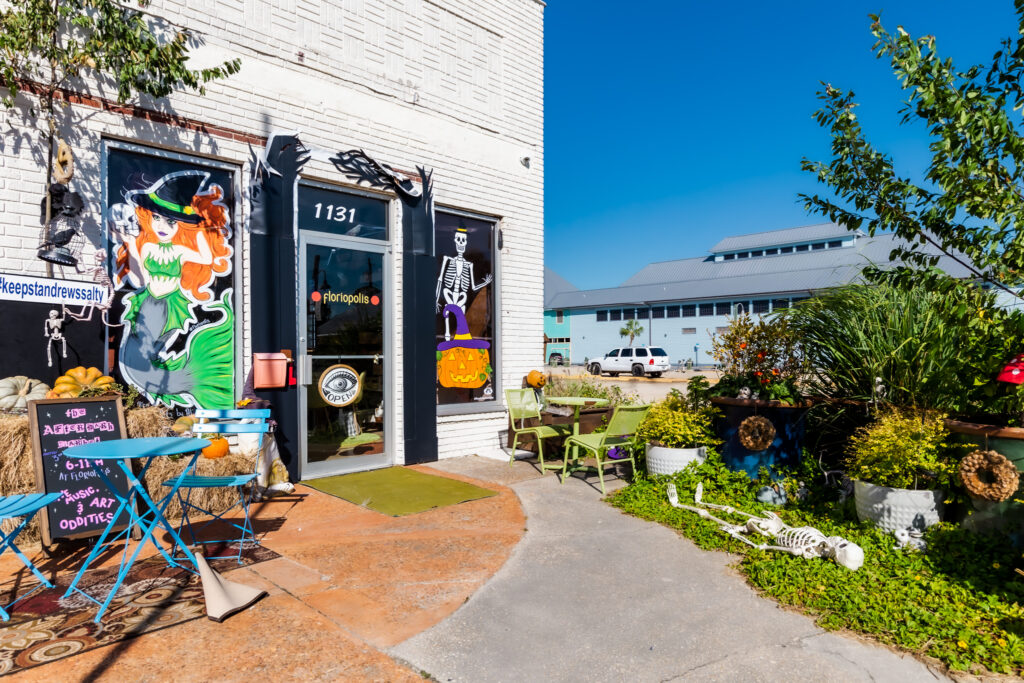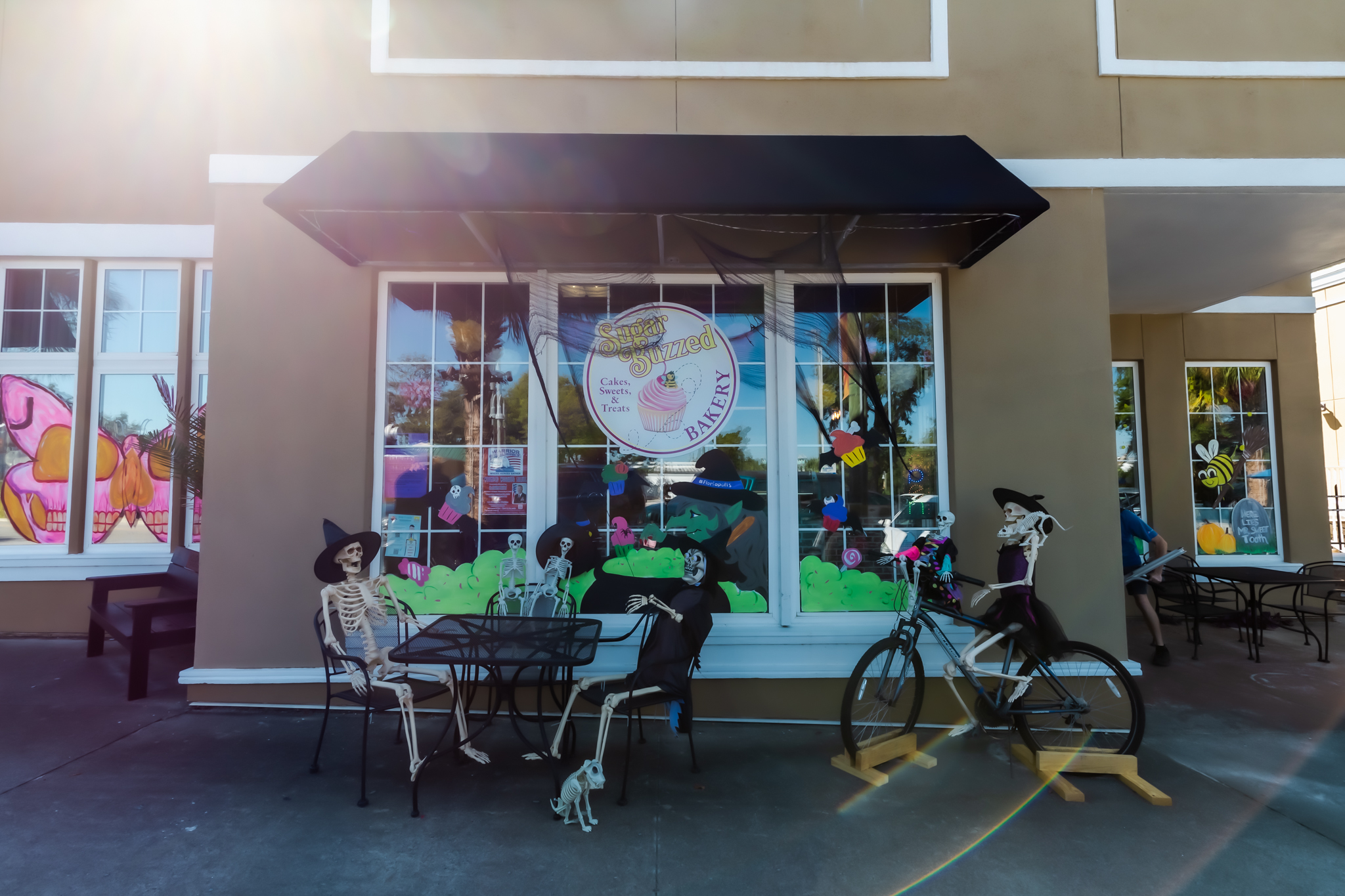 Experience the Magical and Mystical Shops in Panama City
Explore the enchanting realm of magic at the metaphysical boutiques in Panama City, Florida. These captivating havens invite curious souls to immerse themselves in a tapestry of spiritual treasures, ancient wisdom, and cosmic energies. You'll find yourself surrounded by a symphony of scents, colors, and textures, perfect for every modern witch, from practicing to craft-curious and everything in between. No matter what you're hoping to find, there's plenty of magic to discover in Panama City.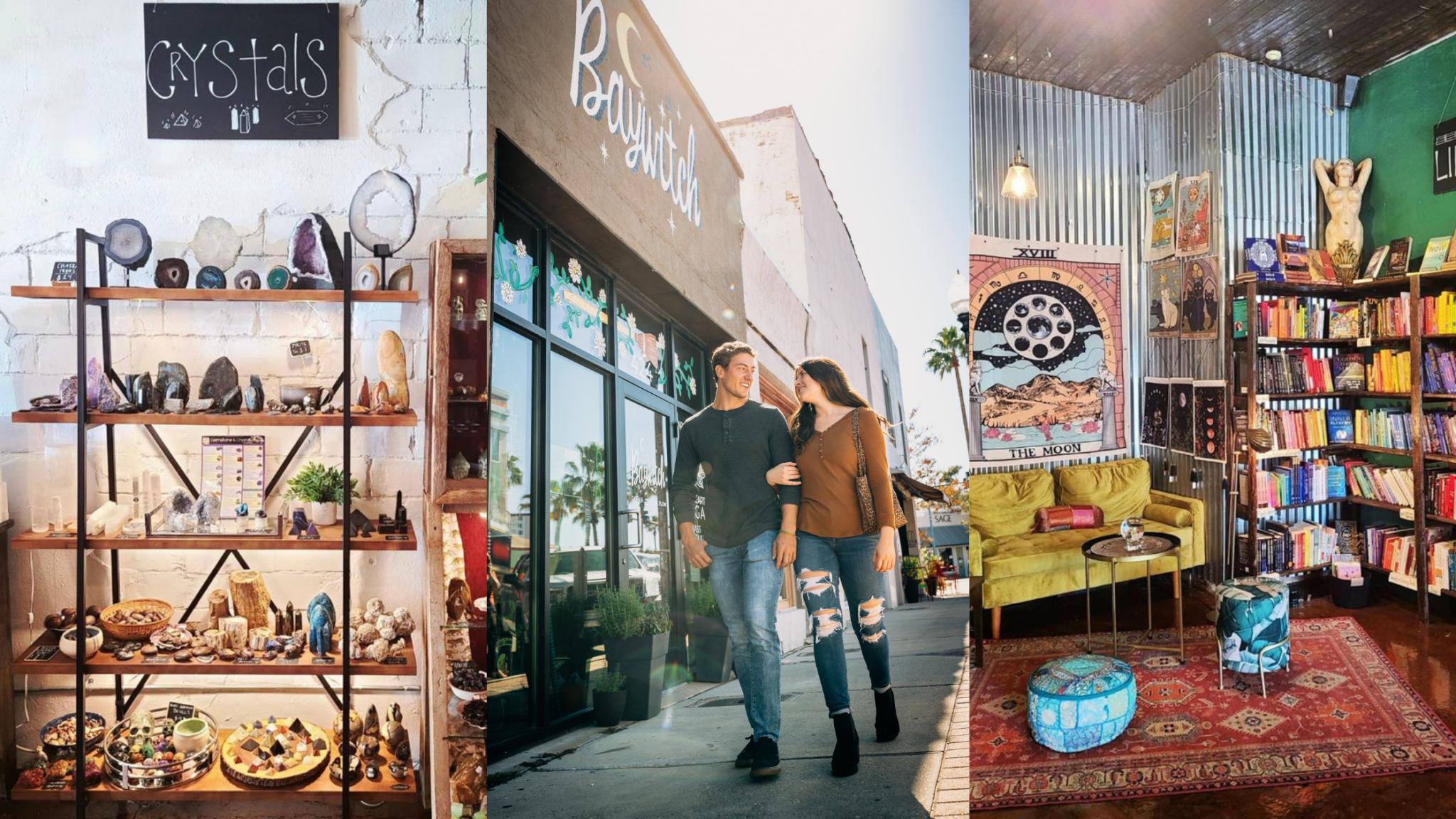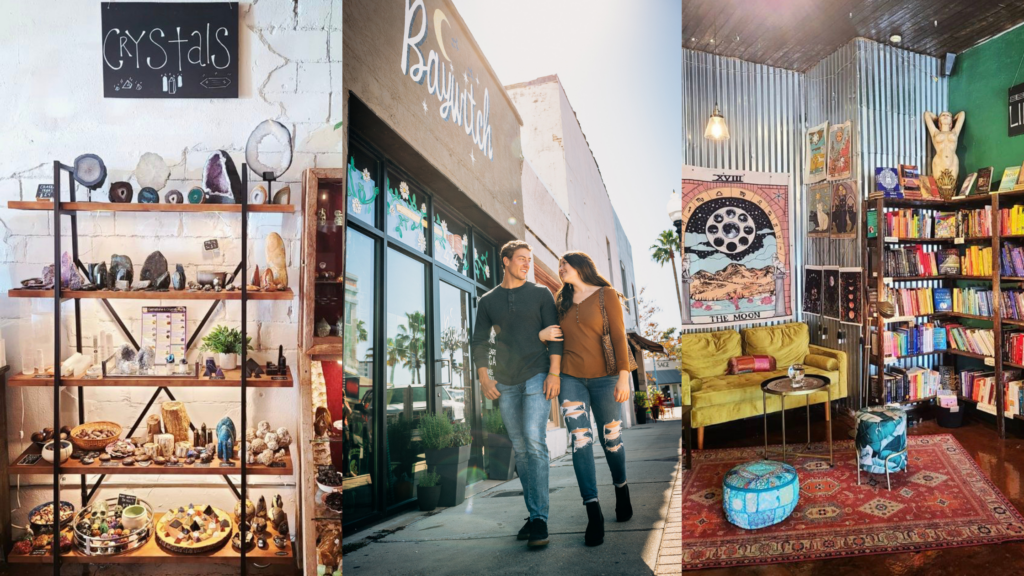 Festivals and Parades to Celebrate Halloween in Panama City
Fall Fest Downtown | Downtown Panama City
Embrace the spirit of fall at the family-friendly Fall Fest in Downtown Panama City. Nestled in the charming McKenzie Park, the event promises a day filled with laughter, excitement, and joy for visitors of all ages. Take a morning stroll through the park as it transforms into a bustling haven of seasonal delights, kickstarting the day with a vibrant fall-themed farmers market. Explore a cornucopia of locally grown produce, artisanal crafts, and delectable treats that embody the essence of the season. As the day unfolds, the festivities continue with the eagerly anticipated Fall Bash and Trunk or Treat extravaganza. And as the sun sets, a spine-tingling twist awaits, drawing brave souls to the Fright Nights Haunted House at the Center for the Arts – an immersive experience that promises chills and thrills for those seeking a touch of eerie enchantment.
Witches of St. Andrews Bike Ride
Every October, historic St. Andrews becomes a realm of magic and compassion as the Witches of St. Andrews emerge from the shadows. Donning elaborate costumes and witch hats, the Witches of St. Andrews they embark on a journey riding their bikes through the historic streets of St. Andrews, weaving a tapestry of whimsy and determination. Their mission goes beyond the ordinary; with every pedal, they channel their collective energy to raise funds for a cause close to their hearts – the battle against pancreatic cancer. In their bewitching procession, these witches cast a spell of unity, hope, and unwavering support for those affected by this devastating disease, reminding us that even in the midst of fun and fantasy, the power of compassion can make a tangible difference.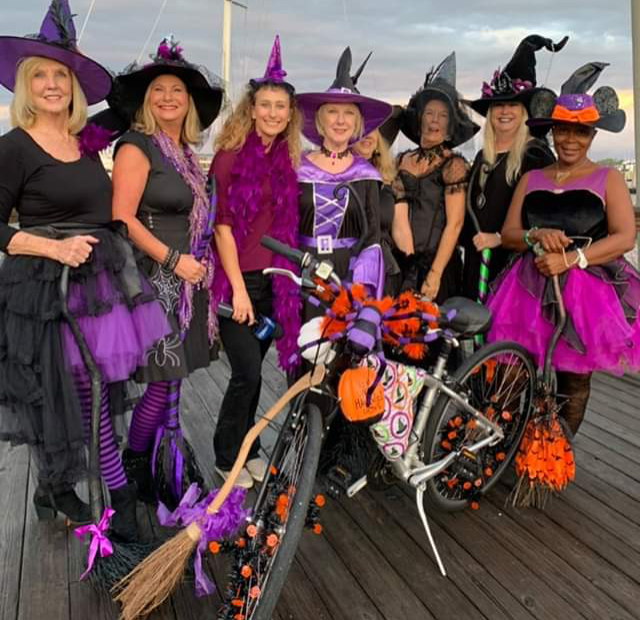 A Kid-Friendly Halloween in Panama City
Spooky Science | Science and Discovery Center
The Science and Discovery Center is hosting Spooky Science, a spooky and kooky Halloween event. Enjoy crafts, experiments, and a costume contest with the kids!
Ghosts by the Bay | Oaks by the Bay Park
Visit the St. Andrews Farmers Market to celebrate Halloween at the beautiful Oaks by the Bay Park with trick or treating, a pumpkin giveaway, and a costume contest for children and pets.
Trunk or Treat | Comic Emporium
Trick or treat on Halloween at Comic Emporium's Haunted Mansion-themed Trunk or Treat, a costume contest, and classic carnival games.
Pumpkin Carving | No Name Lounge
Attend a free family friendly pumpkin carving at No Name Lounge! There will be sno-cones, Halloween treats, provided materials & live music from Zack Miller and Kevin Johnson.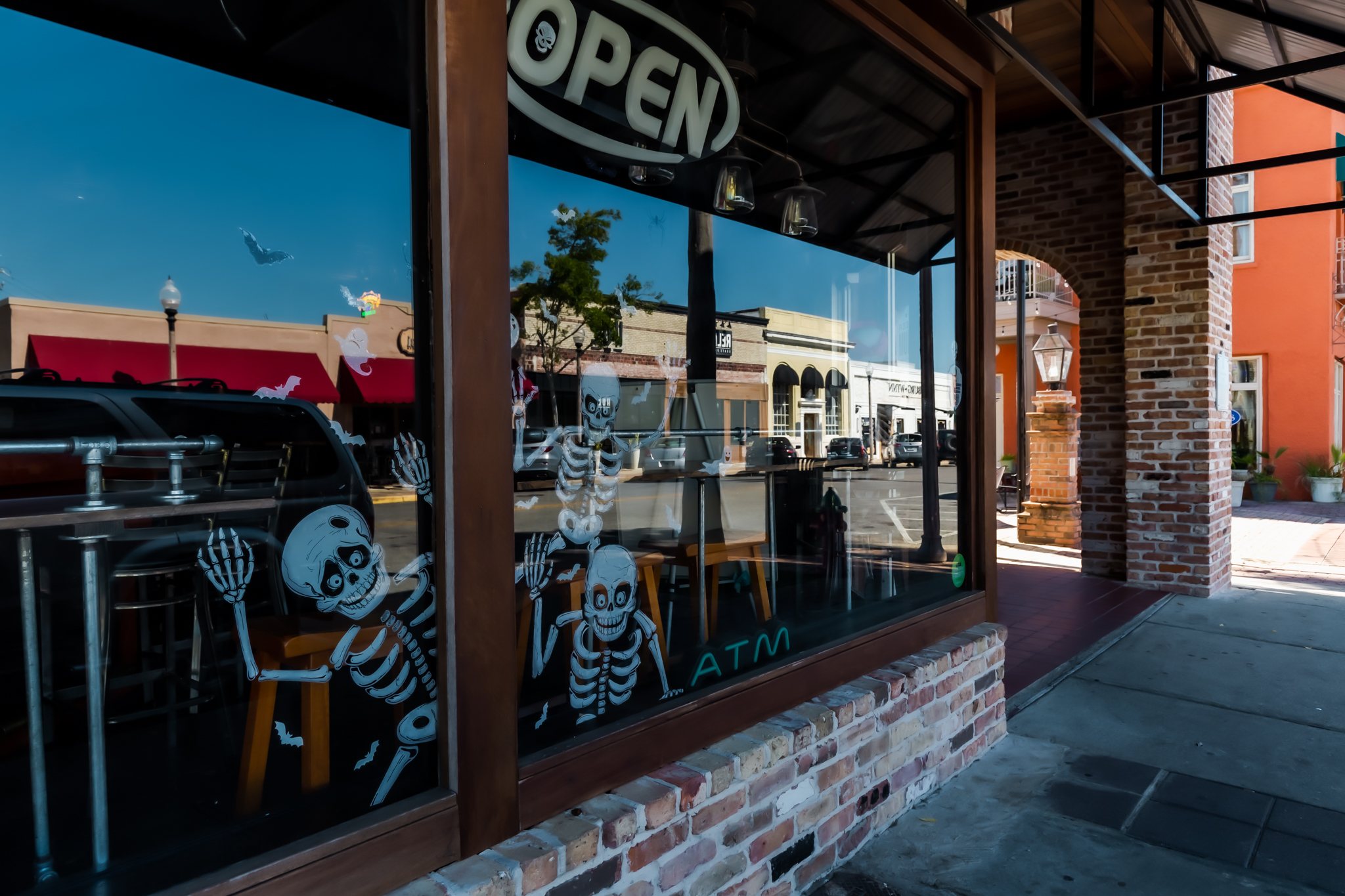 Haunted Houses and Trails for a Terror-Filled Halloween in Panama City
Silver Flag Haunted Trail
Not for the faint of heart, the Silver Flag Haunted Trail is two nights of screams, chills, and thrills for anyone ready to conquer their worst fears. Ask any local and they'll tell you that this is one of the scariest haunted trails they've ever experienced, and an absolute must if you're celebrating Halloween in Panama City. If you're not too scared to eat, food trucks will be on site!
Fright Nights | Center for the Arts
Frights Nights will feature three frightening nights as the local Center for the Arts is transformed into the Raven Queen's Carnival of Souls, an immersive haunted house experience.