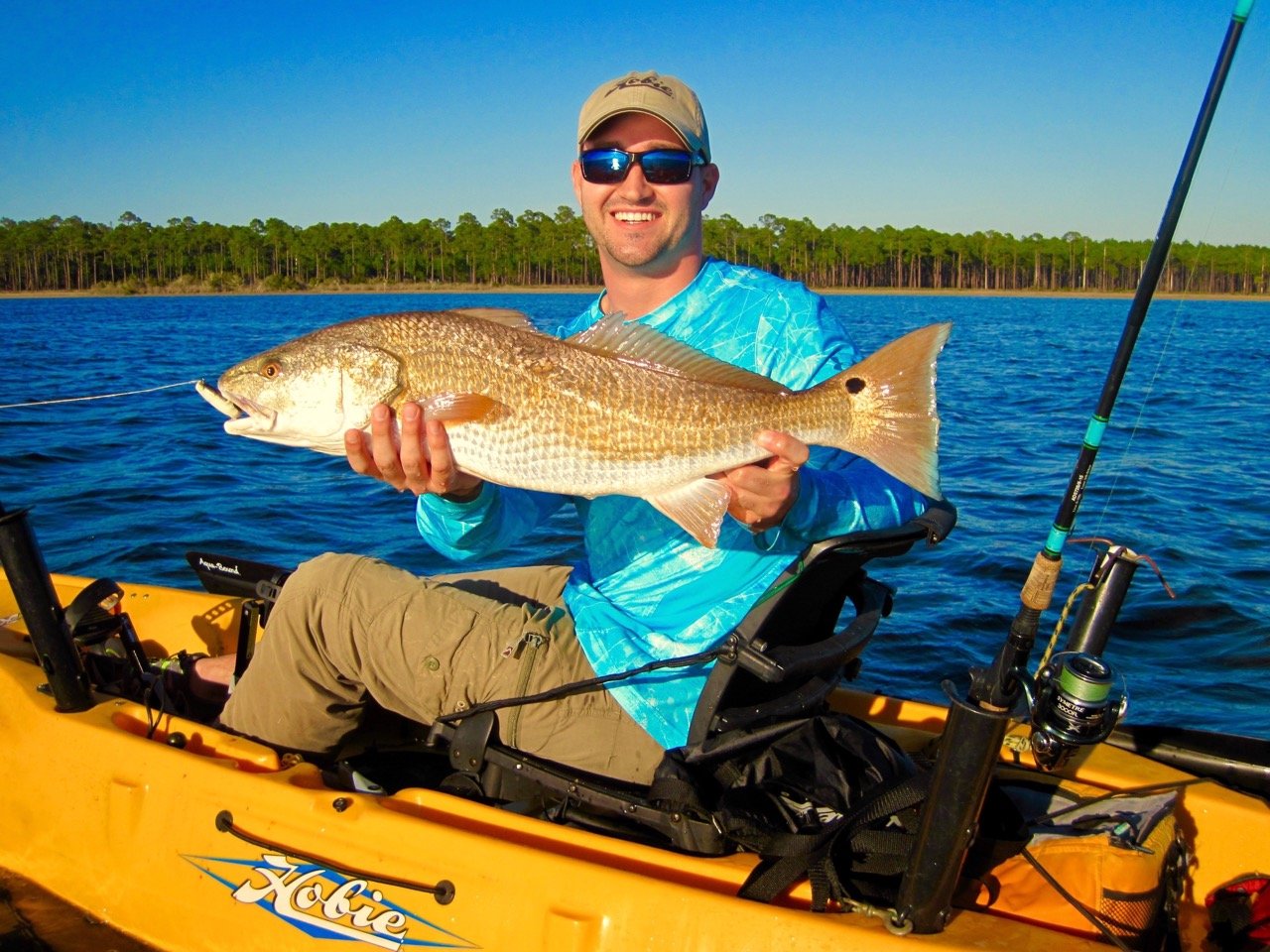 Kayak-Fishing the Creeks of Panama City
Ten easily accessible kayak launch sites in northwest Florida

Panama City, FL is a fishing village embraced by the blue waters of St. Andrew Bay. It also boasts meandering creeks and bayous throughout, enticing fishermen to ditch the boat and explore the area by kayak and try their hand at kayak-fishing. The nearby Tyndall Air Force Base alone features 130 miles of largely uninhabited grass and pine shorelines that are teeming with fish.
Panama City welcomes all levels of expertise when it comes to kayak-fishing. Newcomers can hire a guide to accompany them on their voyage, and more experienced paddlers can either bring their kayaks to one of the many launch sites or they can embark on a guided charter with Sunjammers. While the panhandle's comparatively tranquil Gulf of Mexico offers the most accessible deep-sea kayak-fishing in the United States, the winds and currents can change quickly, making it difficult to paddle back through choppy conditions and tall surf, so kayakers should be weather-aware to ensure a fun day on the water.
Below are 10 easy-to-find public launch sites that offer access to year-round light-tackle fishing for redfish and spotted seatrout, plus seasonal opportunities for flounder, pompano, Spanish mackerel, sheepshead and more. All you need is a map and a wind forecast to start your maiden kayaking trip in Panama City.
1. Crooked Creek Boat Ramp: Located just west of the airport, Crooked Creek Boat Ramp requires a long but scenic paddle south to West Bay. Kayakers can turn left or right at the mouth to look for redfish and trout along miles of virtually undeveloped pine shorelines and wide, shallow grassflats. The area is well-protected when north winds howl. Recommended lures include topwater plugs, suspending twitchbaits and weedless soft-plastics. To find this boat launch, click here.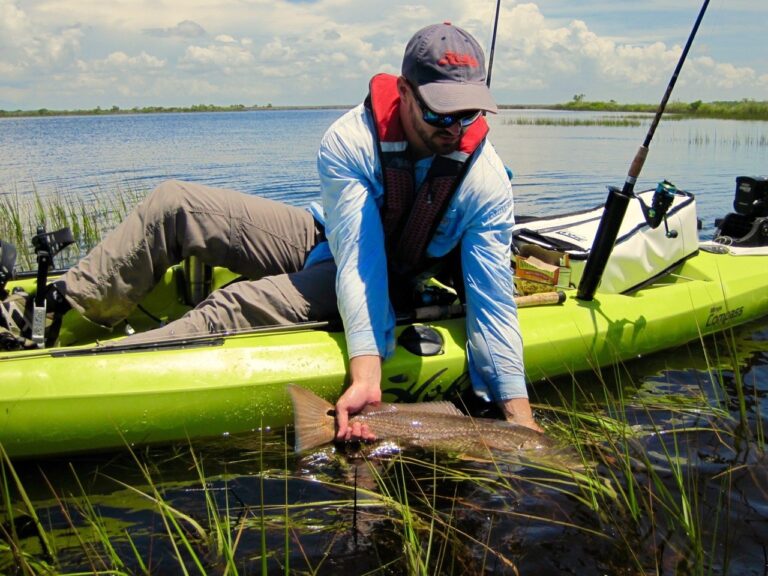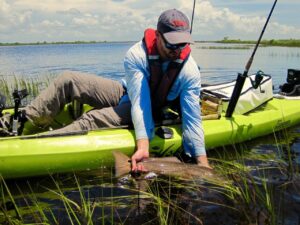 2. Burnt Mill Creek Boat Ramp: Located just east of the airport, Burnt Mill Creek Boat Ramp offers the option of a scenic, winding paddle up the creek to the north, or a half-mile paddle to the south to reach West Bay. With miles of uninhabited shoreline in either direction, Burnt Mill Creek provides protection from north or east winds. It's a great area to throw topwater plugs or look for tailing redfish. To find this boat launch, click here.
3. Hathaway Bridge: Paddlers can launch off the sand at Carl Grey Park adjacent to the Hathaway Bridge, and there are plenty of fishing options here —kayakers should look for reds and trout in shallow potholes and under the docks to the northeast or paddle a mile northwest across the bay and work the shallow grassflats on the west shoreline of North Bay. The Hathaway also offers big-game fishing despite its location five miles inside the St. Andrew Pass. Seasoned kayakers should investigate deep water and reefs around the bridge for giant redfish, snapper, grouper or even the occasional kingfish, tarpon and cobia that wanders in from the Gulf of Mexico. Pedal-style kayaks are highly recommended to avoid collisions with concrete pilings while fighting large fish in possibly strong currents. To find this boat launch, click here.
4. Pretty Bayou Boat Ramp: This ramp provides access to the south shoreline of North Bay. Kayakers should look for reds, trout and occasional flounder in shallow potholes and under docks when launching from this boat ramp. Shallow-running twitchbaits, soft-plastics or topwaters recommended for lures. To find this boat launch, click here.
5. A.L. Kinsaul Park: This ramp offers easy access to North Bay from the west end of 5th Street and provides protection from southern winds. Kayakers should paddle west toward the power lines to look for redfish and trout near shore and in shallow sand holes. Recommended lures include shallow-running twitchbaits and soft-plastics. To find this boat launch, click here.
6. Bailey Bridge: Paddlers should launch at Bailey Bridge Park when the wind is coming from the south, or beneath the north end of the bridge if the wind is blowing from the north or east. The Bailey Bridge Boat Ramp provides access to grassflats, bayous and docks on either side of North Bay. When fishing to the east, recommended lures include suspending twitchbaits or soft-plastics rigged on jigheads. To the west, recommended lures change to topwater plugs, suspending twitchbaits and weedless soft-plastics work well. To find this boat launch, click here.
7. DuPont Bridge: The Under the Oaks boat ramp provides access to miles of largely uninhabited East Bay grassflats adjacent to Tyndall Air Force Base. Some kayakers also choose to launch their boats from the beach after crossing the bridge. Both locations provide fishing beneath the flight path of F22, F16 and T38 planes that can be deafening and distracting at times, but the fish don't seem to mind. The bridge pilings also hold bull redfish that can reach 40 pounds. There is no need to bring a cooler when bridge fishing, as it's strictly catch-and-release fishing. To find this boat launch, click here.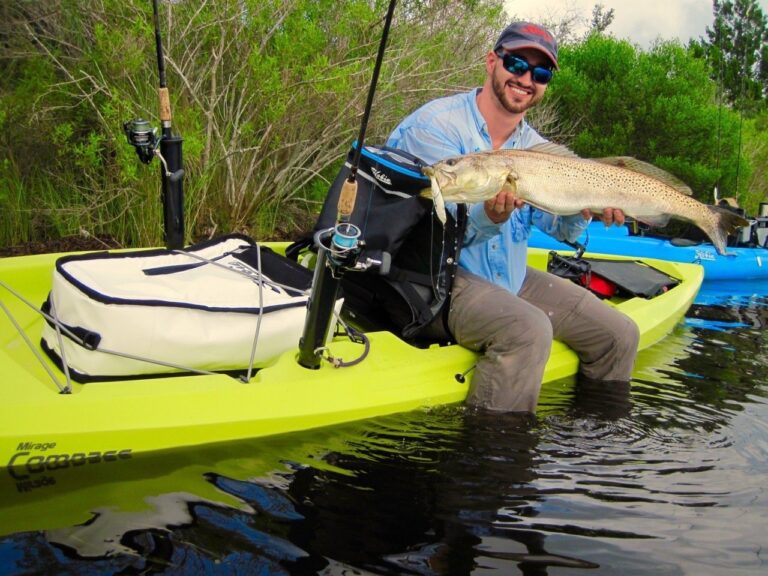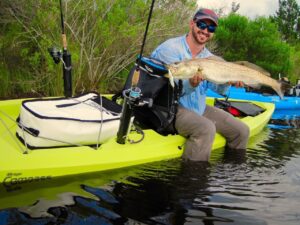 8. Men's Club Boat Ramp: This boat ramp offers access to either a winding two-mile paddle north to the source of Callaway Bayou or a ¾-mile trek south to chase trout and redfish on the shallow grassflats and bayous along the north shore of East Bay. To find this boat launch, click here.
9. Downtown Panama City: Kayaks can launch from the sand in downtown Panama City off of West 4th Street and Beach Drive on the north side of City Hall. This launch offers easy access to East Bay near downtown or Beach Drive, as well as the opportunity to paddle across the bay to fish the Redfish Point area and the grassflats inside St. Andrew Pass. Kayakers should navigate carefully when the afternoon sea breeze kicks up chaotic wave conditions near the Panama City Marina seawall. This is also a popular area to troll for Spanish mackerel from spring through autumn. To find this boat launch, click here.
10. Weekend Gate, Tyndall Air Force Base: This boat launch is technically referred to as the St. Andrew Sound Land Midpoint and is a beach launch that is open only on holidays and weekends to minimize interference with military drone flight operations. Kayakers should turn south and drive through the metal gate 7.8 miles east of the DuPont Bridge on Highway 98 and follow the winding dirt trail for half of a mile to Crooked Island Sound. From there it's a relatively short paddle directly across to the pass at Crooked Island, which is a popular socializing point for kayakers and boaters drawn to the snow-white beaches, crystal-clear water and wildlife. Paddlers can expect to see turtles, rays, dolphins, fish and shorebirds. There are plenty of fish in this area too, including redfish, trout, pompano, flounder, Spanish mackerel, sheepshead and small grouper, or head out beyond the pass in search of kingfish, cobia and tarpon. To find this boat launch, click here.
Jerry McBride teaches kayak fishing and is a freelance outdoor writer and photographer specializing in kayak fishing. He has written for Florida Sportsman and Shallow Water Angler and was the editor of Kayak Fish magazine. You can follow in on Facebook at: https://www.facebook.com/jerry.mcbride.779